Treatment with the revolutionary sickle cell drug crizanlizumab has begun, after a NHS deal was announced in October.
Crizanlizumab was approved by the UK National Institute for Health and Care Excellence (NICE) for use through managed access agreements, while evidence about its long-term benefits is collected.
The drug is a monoclonal antibody which binds to P-selectin, and it is estimated that it reduces sickle cell crises by 40% compared with other treatments.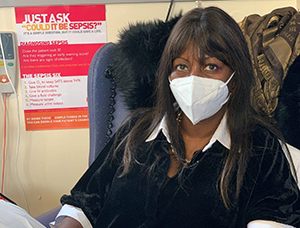 One of the first patients, Loury Mooruth, aged 61, received the drug last week at City Hospital, Birmingham.
Ms Mooruth said: "Whenever I thought about having this new drug it brought tears to my eyes. I am so excited and over the moon because it is literally life-changing for me and my family. I really want to encourage other eligible people with this disease to come forward and get this drug."
Haematologist Dr Shivan Pancham said: "Our patients often find the experience in emergency departments challenging with a lack of understanding of the severity of pain. However, Crizanlizumab is a new therapy which is given once a month to reduce the frequency and severity of crises that sickle cell patients suffer."
Kye Gbangbola, chair of the Sickle Cell Society, welcomed the beginning of treatment, stating: "We are delighted to see the first sickle cell patients are now getting access to this life-changing new treatment.  We encourage others that are eligible to do similar.
"We hope that this new treatment will bring a new lease of life to many living with sickle cell.
"Sickle cell is an underserved and underrecognized condition, so it is great to see new treatments being made available after over 20 years. We hope that this will be the first of many new treatments being made available to improve the lives of those living with sickle cell."
GP Dr Bola Owolabi, NHS Director of Health Inequalities, added: "It's fantastic that our first NHS patients have been given this ground-breaking and historic new treatment for sickle cell disease – the first in over two decades.
"This revolutionary treatment will allow patients to have a better quality of life, reduce trips to A&E by almost half and ultimately help to save lives.
"Thanks to the NHS' deal for this treatment we have been able to provide the latest and best possible treatments for patients at a price that is affordable for taxpayers."
Source: NHS England - https://www.england.nhs.uk/2022/02/nhs-treats-first-sickle-cell-disease-patients-with-life-changing-drug/
Link to NICE guidance on crizanlizumab: https://www.nice.org.uk/guidance/ta743
Disclaimer: The news stories shared on this site are used as a way to inform our members and followers of updates and relevant information happening in Haematology. The BSH does not endorse the content of news items from external sources, and is not in a position to verify the findings, accuracy or the source of any studies mentioned. Any medical or drugs information is provided as an information resource only, and is not to be relied on for any diagnostic or treatment purposes.
News service provided by Englemed News.