This undergraduate conference hopes to inspire medical students of all years and cultivate their interest in haematology. Through lectures from experts in the field, and interactive workshops, we aim to enhance and go beyond the foundation of knowledge covered in the medical school curriculum.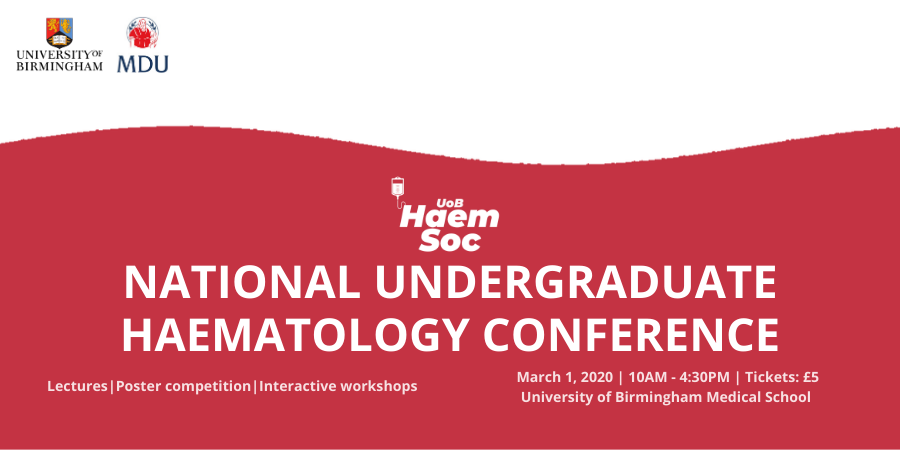 Date: Sunday 1 March 2020
Time: 09:30 - 16:30
Venue: Birmingham Medical School, College of Medical and Dental Science
Expert clinicians and scientists will deliver engaging lectures on: advances in stem cell transplantation, thalassaemia, and treatment of acute myeloid leukaemia; rare blood groups and blood transfusion; gene therapy and haemophilia.
Clinicians will run interactive workshops. Stations will include a case-based discussion on haematological emergencies, a discussion-based guide to the interpretation of blood films, and a practical station that will allow delegates to learn and practice a clinical skill related to haematology.
The overall objectives are to showcase the latest advances in the field of haematology and further the delegates' knowledge and understanding of haematology. The workshops will demystify haematological principles, allow the opportunity for discussion with clinicians, and provide valuable experience in applying their understanding of haematology to clinical practice.
Delegates have the opportunity to present a poster on a haematology-related topic, and there will be prizes.
Important information:
Tickets are £5, plus a booking fee. Lunch is included in the ticket. Content of interactive workshops are subject to change. Abstracts to be submitted by email to: uobbloodmatters@gmail.com. Any queries please contact us via email at: uobbloodmatters@gmail.com.
For further information please visit the conference website.