Our 60th Annual Scientific Meeting will take place on 27-29 April 2020 at the ICC in Birmingham. As part of an innovative and diverse programme we are once again inviting nurses to attend the conference where we have three bespoke nursing sessions on Tuesday 28 April. In addition there will be nursing posters during the poster session from 6.15pm as well as the chance to network at the Presidents Reception at 7.15pm. A day pass for the Tuesday starts at only £50 for BSH members and we also have nursing bursaries available to support attendance.
BSH pride ourselves on being an inclusive and diverse society, and with an ever growing nursing membership we encourage you to join us in Birmingham to learn about all the latest research and take advantage of the many networking opportunities available.
Nursing Sessions at BSH 2020 
Our nursing programme at BSH 2020 will take place on Tuesday 28 April and the provisional programme is outlined below.
The full conference programme is currently under review but will be here
---
Nurses Breakfast table 07:00-8:00
---
Top Abstracts: Nursing & Education. Chair: TBC  
08:00 - 09:30
If you would like to submit a nursing abstract for either oral or poster presentation details of how to submit are here.
---
Nursing / AHP session 
Chair - Sarah Jordan, UCLH
09:45-11:15
Using technology to find new ways to educate - Sarah Jordan
CAR T cell therapies and CRS -  Gavin Cooper and Leigh Wood
Bone marrow transplant exercise study – Orla McCourt
The experience of the haematology patient in ITU - Sarah Wheeldon
---
Haematology nursing now
Chairs Karen Stanley and Jackie Green
13:45 - 15:15
25 years of Sickle Cell Nursing. Neil Westerdale 
Developing nurse education tools to support unmet need in haemato-oncology nursing care. Kate Keightley 
Joining palliative care and haematology specialities together to improve patient care - Caroline Adams
---
18.15 - 19.15 Poster moderation (includes nursing posters)
19.15 -20.15 President's drinks reception
Grants Available
---
Abstract Scholarships
We actively encourage nurses to submit abstracts for consideration for the upcoming Annual Scientific Meeting. This is an excellent opportunity to promote your work to a multidisciplinary audience. Abstracts can be in poster or oral format. The top abstracts will receive abstract scholarships of up to £750. Submit an abstract here. More information on abstract scholarships is here
Our ASM Abstract Scholarships support the best of haematology science and research; funding is offered to eligible presenters of the highest scoring abstracts to facilitate their attendance at the conference. Nurses at Band 8a and below are eligible for these scholarships. 
Please note that no application is required for an Abstract Scholarship. Instead you will be asked during abstract submission if you would like to be considered for an Abstract Scholarship.
More information can be found here
Travel Scholarships
£20,000 of funding is available exclusively to support nurses attending the 2020 ASM. These grants are available on a first come first served basis so apply early if you need funding.
The ASM Nursing Travel Scholarships supports nurses who wish to attend the ASM. We particularly encourage applications from those representing their departments who will cascade the knowledge to others in their institutions, especially nurse practitioners.
Travel Scholarships are distributed on a first-come, first-served basis until the fund is depleted. Successful applicants will receive a code to use at registration that will cover the cost of conference registration. Any other expenses (travel and accommodation) will be reimbursed after the conference, up to the value requested at application.
More information can be found here
Showcase your work - submit an abstract
---
The BSH Annual Scientific Meeting provides a fantastic opportunity to showcase your research and share your knowledge with over 1,400 delegates including key decision makers and influencers from around the world. Abstracts can be oral presentations or poster and are published in the British Journal of Haematology as well as being available on the conference app and as a poster or oral presentation as the ASM.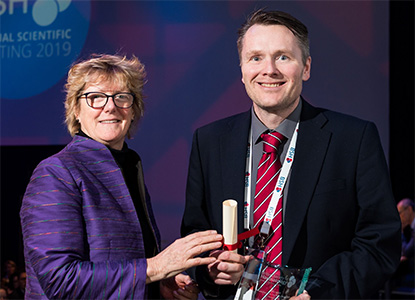 NIHR-BSH Researcher of the Year Award
The NIHR-BSH Researcher of the Year award is a joint initiative between BSH and National Institute for Health Research (NIHR) to recognise recent contributions to clinical research efforts made by members of the BSH. The award is presented at the BSH Annual Scientific Meeting.
A joint panel will select one Nurse or allied health professional to win a £500 award.
2020 Application Form (Word doc) 
Please send completed applications to ian.nickson@nihr.ac.uk by 31 January 2020