Chairs: Jorge Cortes, Tim P. Hughes, Daniela S. Krause - Co-organisers: Ravi Bhatia, Tim Brümmendorf, Mhairi Copland, Michael Deininger, Olivier Hantschel, François-Xavier Mahon, Danilo Perrotti, Jerry Radich, Delphine Réa - Advisory Committee: Jane Apperley, Susan Branford, Carlo Gambacorti-Passerini, François Guilhot, Rüdiger Hehlmann, Pierre Laneuville, Giuseppe Saglio, Charles Schiffer, Simona Soverini, Peter Valent, Rick Van Etten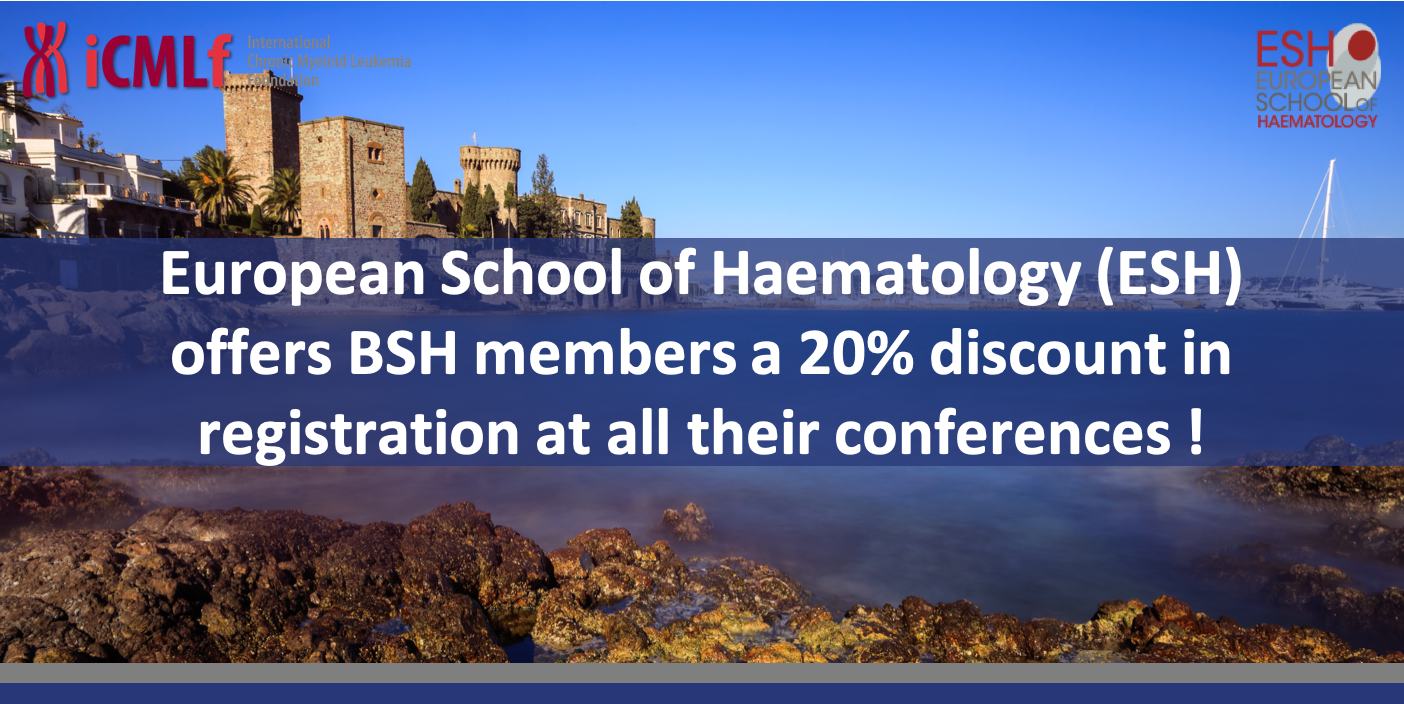 Date: Friday 2 - Sunday 4 October 2020
Venue: Centre Expo Congres Mandelieu, France
Strong basic and clinical science:
Speakers at this meeting will present the newest and often unpublished data relating to the (1) biology of CML including the origin of BCR-ABL1, signal transduction, basis of disease progression, action of tyrosine kinase inhibitors and mechanisms underlying resistance to TKI, and (2) aspects of treatment including prediction and definition of responses, drugs used in combination, modern diagnostics and molecular monitoring, targeting residual stem cells, approaches to cure and treatment free remission.
Posters and Brief Oral Communications:
Registered participants are invited to submit their biology and clinical abstracts. Selected abstracts will be presented as brief oral communications or posters.
Call for abstracts: deadline Friday 8 May 2020
This meeting will be valuable to you if you wish to:
Understand current and new concepts of the signal transduction pathways involved in chronic myeloid leukemia (CML) and the mechanisms of action of tyrosine kinase inhibitors and other new agents.
Have insight into the possible mechanisms of genomic instability that predisposes to formation of the BCR-ABL fusion gene and predispose also to disease progression and the consequences of such instability.
Define a leukaemia stem cell and its relationship to disease kinetics in so far as current knowledge permits.
Evaluate the merits of various management decisions, e.g. how to start treatment for patients in the different phases of CML, how to assess success or failure of initial treatment, what approaches to consider for patients who have failed to respond well to initial treatment, including assessing the precise role of second and third generation TKIs and other non-molecular therapeutic approaches.
Review the current recommendations and discuss current concepts and challenges of monitoring individual patients with hematologic, cytogenetic and molecular (RQ-PCR) methods.
Assess the role of allogeneic stem cell transplantation in the management of CML.
Critically evaluate the possible role of the different immunotherapeutic approaches in the treatment of CML.
Discuss current data and ongoing research regarding treatment-free survival as an endpoint in CML management.
Discuss patient reported outcomes and their role in the management of patients with CML.
The meeting will be of interest to:
Senior biologists and clinicians, including experts in the field (MD, PhD, MD-PhD)
Junior scientists and clinicians (MD, PhD)
PhD candidates and clinical residents still in-training
Allied health professionals
Main topics:
Stem Cells and the microenvironment
Molecular biology and new targets
Mechanisms of resistance
Biomarkers
Therapeutic interventions
Treatment free remission
Safety and patient reported outcomes
Pharmaco-economics
The programme will include:
John Goldman Prize lecture
Janet Rowley Prize lecture
iCMLf Prize lecture
Keynote lectures
Special lectures
Workshops for non-clinical scientists
Oral communications selected from submitted abstracts
Brief oral communications selected from submitted abstracts
Meet-the-Expert Sessions
Clinical and biology Manned Poster Walks
Special Saturday symposium 2020
The ESH International John Goldman Research Award presentation 2020
For further information and to register your place please visit the conference website or email Camille Dufour.