This national annual summit takes a practical approach to improving practice and outcomes for those living with and beyond cancer, moving from surviving to thriving.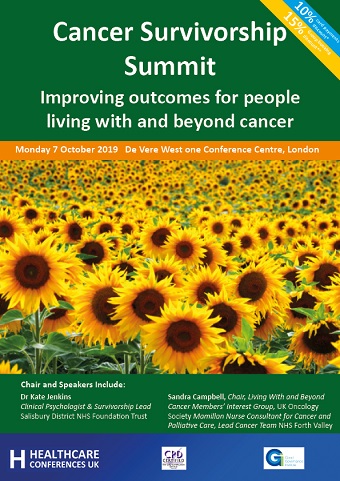 Date: Monday 7 October 2019
Time: 09:30 - 17:00
Venue: Devere West One Conference Centre, London
Through national updates and practical case studies the conference aims to support you to deliver on the above priorities outlined by NHS England and develop effective cancer survivorship support and services. There will be an extended focus on implementing the National Quality of Life Metric for cancer survivors and learning from the pilots sites. The conference will also explore how we meet the unmet needs of people living with and beyond cancer, accelerating the roll-out of stratified follow-up pathways and the commissioning of holistic packages of support, and ensuring every person with cancer will have access to relevant elements of the Recovery Package.
For further information and to register your place please visit the conference website.