1 in 4 people die due to causes related to blood clots. You can help change that. NTW21 virtual conference provides over 15 hours of accredited learning, updates, workshops and discussion. Live and with catch-up accredited recordings, it's for all healthcare and allied professionals. And because it is so important, registration for NTW21 is free of charge.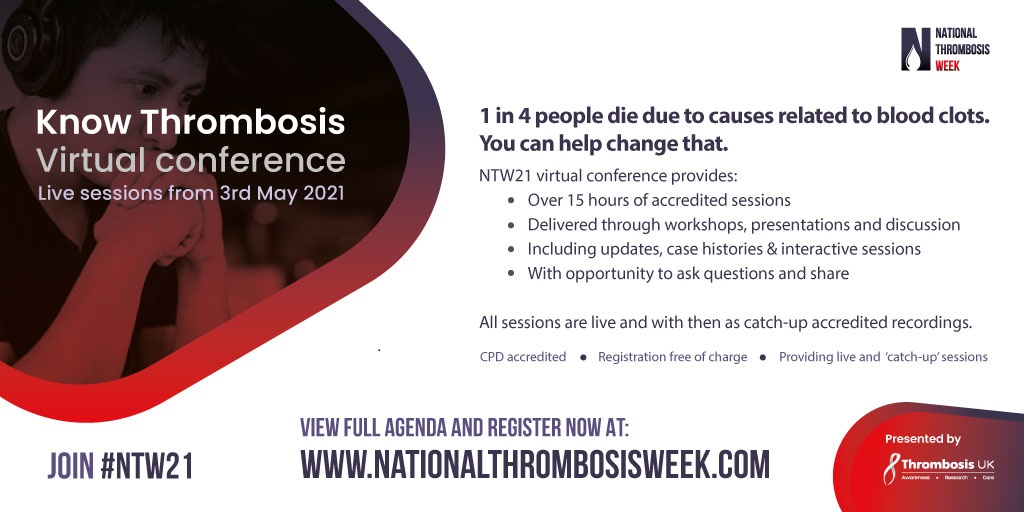 Date: Monday 3 - Friday 14 May 2021
Venue: Online virtual conference
NTW21 virtual conference is open to all healthcare and allied professionals. Live sessions across ten days of workshops remain accessible and CPD accredited to all registered attendees throughout May via the NTW21 platform.
With free registration and CPD accreditation NTW21 provides:
Over 15 hours of accredited sessions
Globally recognised speakers deliver workshops, presentations, learning and discussion
With topics suited to all health settings and including:
Updates, COVID, case histories and interactive sessions across diagnosis, challenging areas, opportunities, implementation, leadership and quality improvement
Opportunity to ask questions, share and discuss
For further information and to register your place please visit the conference website.