This conference for current and aspiring nurse prescribers provides national updates and practical guidance, tips and advice for effectively and competently prescribing in cancer care and related specialities.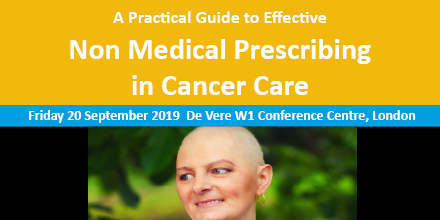 Date: Friday 20 September 2019
Time: 10:00 - 17:00
Venue: De Vere West One Conference Centre, London
This conference focuses on Nurse Prescribing in Cancer Care. Through national updates and practical case studies the conference will demonstrate how the effective use of nurse prescribing in cancer care can improve patient care, experience and outcomes.
The conference will focus on developing competence and confidence in nurse prescribing in cancer care, including using the National Competency Framework for all Prescribers.
Benefits of attending
This conference will enable you to:
Network with colleagues who are working to improve nurse prescribing practice in cancer care
Understand the national context including the national competency framework for prescribers
Develop your skills and improve competence in prescribing practice
Understand how to develop prescribing to improve chemotherapy services
Improve your skills in the prescribing and prescribing governance
Examine your role within prescribing at the end of life, including symptom control and controlled drugs
Understand how to set up a Nurse Led Non-medical Prescribing Clinic
Learn from established prescribing practice in cancer follow-up and survivorship, prescribing for lung cancer and pharmacist prescribing
Understand how to audit and demonstrate competence in nurse prescribing practice
Self-assess and reflect on your own practice
Gain CPD accreditation points contributing to professional development and revalidation evidence
For further information and to book your place please visit the event website.