Chairs: Tim Brümmendorf, Carlo Dufour, Inderjeet Dokal, Régis Peffault de la Tour, Marc H.G.P Raaijmakers, Neal Young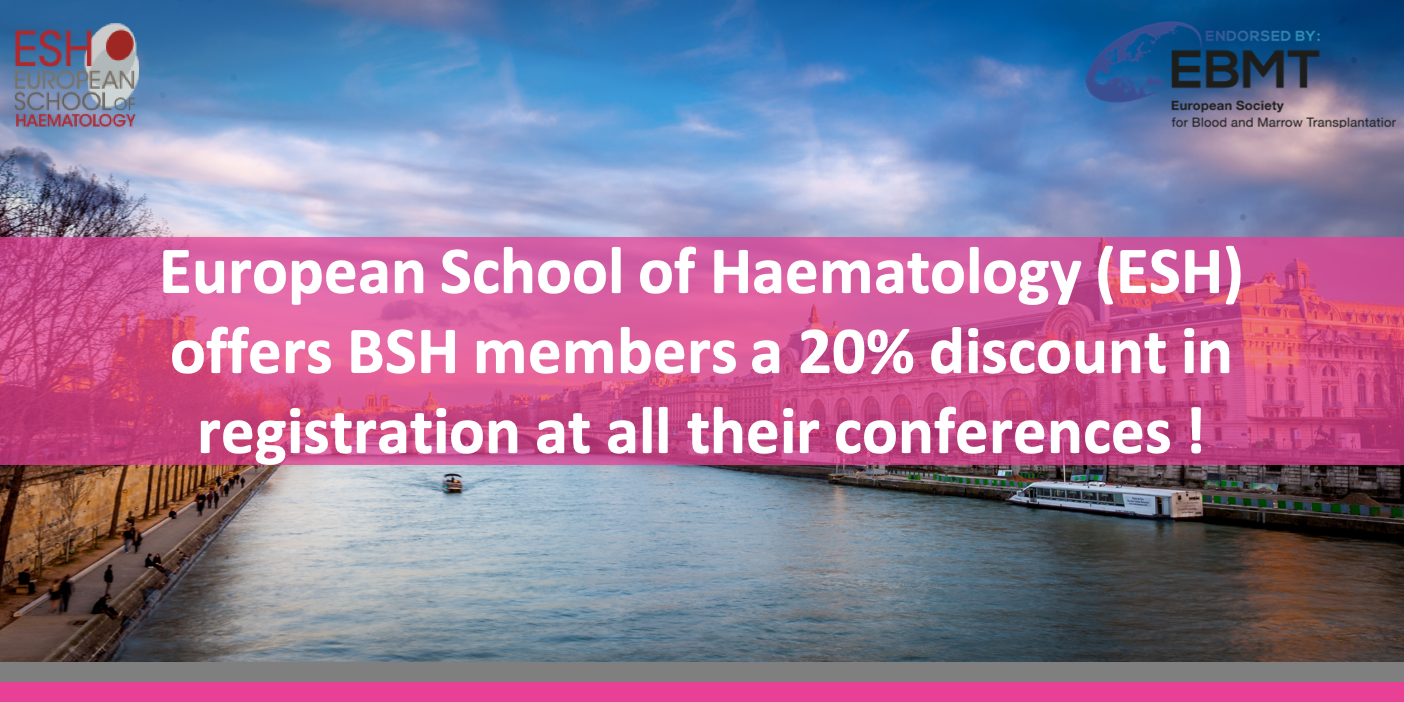 Date: Friday 13 - Sunday 15 November 2020
Venue: Novotel Paris Tour Eiffel, France
On behalf of the European School of Haematology and the Severe Aplastic Anaemia Working Party of the European Society for Blood and Marrow Transplantation (EBMT), we are very pleased to invite you to this Translational Research Conference on Bone Marrow Failure Disorders (BMF).
An outstanding faculty of distinguished global experts will present the most recent advances in the field, from the pathophysiology to the diagnosis and therapy of inherited BMF disorders, idiopathic aplastic anaemia and paroxysmal nocturnal haemoglobinuria.
The plenary conference programme is designed to place emphasis on leading-edge basic and clinical research. The presentation of unpublished data is encouraged. Ample time is deliberately provided for in-depth scientific discussion and interaction. Registered participants will further benefit from a variety of opportunities for informal scientific interaction with the world's leading experts in the field, including during small Meet the Expert sessions and Mentored Posters Walks.
Posters and Brief Oral Communications:
Registered participants are invited to submit their biology and clinical abstracts. Selected abstracts will be presented as brief oral communications or posters.
Call for abstracts: deadline Thursday 3 September 2020.
This meeting will be valuable to you if you are looking for:
A cutting-edge scientific programme – from basic science to clinical and therapeutic applications and perspectives.
An emphasis on in-depth scientific discussion
Opportunities for informal face-to-face scientific interaction with global authorities in the field.
The meeting will be of interest to:
Senior biologists and clinicians, including experts in the field (MD, PhD, MD-PhD)
Junior scientists and clinicians (MD, PhD)
PhD candidates and clinical residents still in-training
Learning Objectives:
Improve understanding of the stem cell biology of BMF, from genotoxic stress, inflammaging to failure
Acquire knowledge of recent advances in Fanconi Anaemia, Ribosome diseases and telomeropathy
Gain insight into novel therapeutics of Paroxysmal Nocturnal Haemoglobinuria (PNH) and idiopathic aplastic anaemia, including knowledge of complement cascade, the current developmental status of various targeted drugs and of novel antibody-based and small molecule-based immunotherapeutic approaches, and their promise for future clinical application.
Acquire an overview of emerging approaches and new challenges such as genetic editing of haemopoietic stem cells, single cell RNA sequencing in haemopoiesis and genetic predisposition for myeloid malignancies.
Topics:
Stem cell biology: from stress to failure
Constitutional marrow failure 1: Fanconi Anaemia
Constitutional marrow failure 2: Ribosome diseases
Constitutional marrow failure 3: Telomere biology diseases
Immune aplastic anaemia and PNH 1: Pathophysiology and diagnosis
Idiopathic Aplastic Anaemia and PNH 2: Differential diagnosis and clonal evolution
Treatment of immune aplastic anaemia
Treatment of PNH - Emerging areas and new challenges
For further information and to register your place please visit the conference website or email Oriane Rosedel.