The Global Haematology Special Interest Group (SIG) workplan was created following a stakeholder workshop held in 2016, with representatives from the BSH and haematologists from lower-and-middle income countries (LMIC). One stream of our work was a two year pilot scheme where selected BSH speakers visited LMIC haematology meetings and established links with haematology societies. In 2017 two of our UK representatives spoke at conferences in Ghana and Kenya.
The Global Haematology SIG are accepting applications for the British Society for Haematology Plenary Speaker Programme 2021. This will be available to BSH member only. The aim of this scheme is to form international partnerships between the BSH and haematology societies in low and middle-income countries, to share knowledge and expertise. Please see the linked documents below for more information. 
Plenary Speaker Programme 2021
Please submit applications to globalhaem@b-s-h.org.uk  before Monday 9 August 2021. 
Making Links, Creating Networks
The initial phases of this project involved mapping out and making contacts with active haematology and transfusion societies in LMICs worldwide.
A search was undertaken for active haematology societies in LMICs in Africa, Europe, the Middle East and Asia.
Attendees from LMICs at the 2016 BSH international congress were contacted, and respondents asked about active haematology societies in their region. Internet searches were performed and haematologists and transfusion specialists in large teaching hospitals in LMICs were contacted.
LMIC haematology societies were shortlisted for our 2017 pilot scheme based on pre-defined criteria, and the Ghanaian Society of Haematology (GHASH) and the Haematology and Oncology Society of Africa (HOSA) were invited to take part
Matching Speakers to Societies
The 2017 HOSA meeting was titled 'Haematology in Africa: Beyond Benign; More than Malignant'. They requested a specialist in lymphoma to speak on  both diagnosis and management.
The theme of the 2017 GHASH meeting was 'Anaemia in the Young and Old: Differentials and Challenges'. They requested a speaker who could talk about unusual causes of anaemia and also give advice on developing their laboratory facilities and enrolling in external Quality Assurance schemes.
The committee then advertised for UK consultants with the relevant sub-speciality experience and an interest in ongoing collaboration with our haematology colleagues in LMICs. They were short-listed and interviews were held in June 2017.
Dr Maadh Aldouri was selected to represent the BSH at the HOSA conference in Nairobi, Kenya in August 2017. His plenary lecture on lymphoma in a low resource setting was well received.
At the conference he also had the opportunity to take part in a sickle cell neonatal screening workshop, and following the conference he visited Agha Khan University and Nairobi University Hospitals to meet with their haematologists and trainees.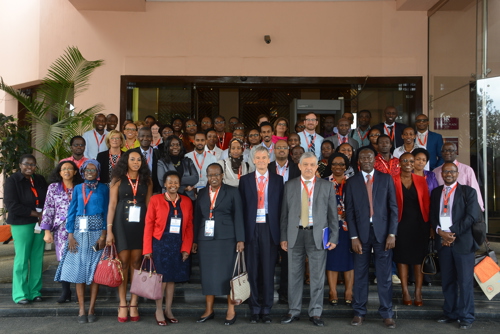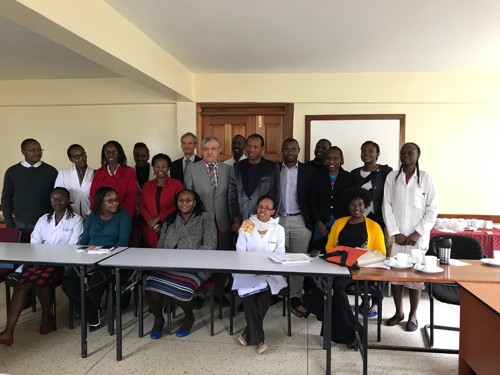 Dr Humayun Ahmad represented the BSH at the GHASH conference in Accra, Ghana in November 2017. In addition to giving the plenary talk on the differential causes of anaemia, he also provided tutorials for trainees and staff. 
As part of an ongoing collaboration, arrangements are being made for clinical attachments in the UK for Ghanaian haematology trainees.