In 2016, representatives from the British Society for Haematology (BSH) and haematologists from low- and middle-income countries (LMIC) met to decide the priorities of the Global Haematology Special Interest Group (SIG).
One priority was to identify BSH speakers to visit LMIC haematology meetings to establish links and collaborative projects.
We have built on the success of the 2017 pilot project to establish the Plenary Speaker Project as a core activity of the SIG.
---
BSH Speaker Advert 2022:
We are accepting applications for the British Society for Haematology Plenary Speaker Project 2022 - please note that you must be a BSH member to apply. The aim of this scheme is to form international partnerships between the BSH and haematology societies in low and middle-income countries, to share knowledge and expertise. 

The Global Haematology Special Interest Group Officers are looking for BSH-sponsored Plenary Speakers with specialist knowledge and expertise to attend one of three 'face to face' meetings:
The Annual Conjoint meeting of the Egyptian Society of Hematology and Research /Egyptian Thalassemia Association in Cairo, Egypt in October 2022. A speaker with expertise in MRD for ALL and AML is sought.
The Ghana Society of Haematology's coagulation meeting in November 2022 is looking for a speaker with expertise in Anticoagulation in the Bleeding Patient.
The Annual Meeting of the Thai Society of Haematology in March 2023. A plenary on any 'omic' approach to haematological disease is sought.
The BSH will cover economy return international flights, accommodation, required visas and subsistence for the speaker. The closing date for applications is 27th June 2022.
Please click here for the full speaker advertisement, and here for the speaker application form.
---
About the project
Making links, creating networks
The initial phases of this project involved mapping out and making contacts with active haematology and transfusion societies in LMICs worldwide.
We searched for active haematology societies in LMICs in Africa, Europe, the Middle East and Asia.
We contacted attendees from LMICs at the 2016 BSH international congress, and we asked respondents about active haematology societies in their region. We conducted internet searches and contacted haematologists and transfusion specialists in large teaching hospitals in LMICs.
We shortlisted LMIC haematology societies for our 2017 pilot scheme based on pre-defined criteria. We invited the Ghanaian Society of Haematology (GHASH) and the Haematology and Oncology Society of Africa (HOSA) to take part.
Previous attendees:
2017: Dr Hume Ahmad - Accra, Ghana - Challenging diagnostic cases in anaemia.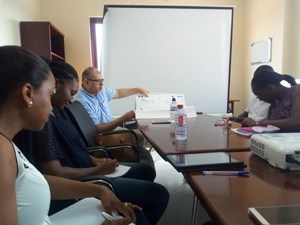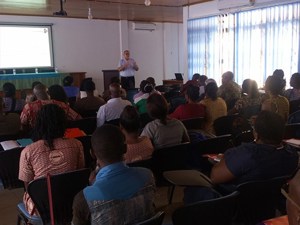 2017: Dr Maadh Aldouri - Nairobi, Kenya - Treating lymphoma in low resource settings.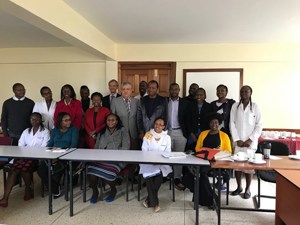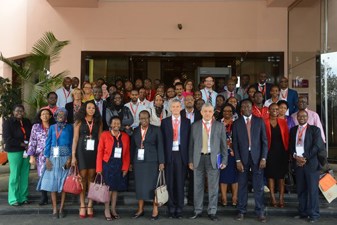 2018: Dr Noemi Roy - Cairo, Egypt - Dyserythropoesis and the use of NGS in rare anaemias.
2019: Dr Anita Hill - Colombo, Sri Lanka - Update in PNH.
2019: Dr Ben Kennedy - Bangkok, Thailand - Update in CLL.
2021: Dr Jecko Thachil - South Africa - Coagulopathy and COVID-19.
2021: Dr Nandini Sadasivam - Vietnam - Update in care for patients with thalassaemia.