In this section you'll find testimonials from recipients of BSH grants. These testimonials show how our grants have helped them achieve goals, create networks and further their research.
Scroll down and click on the headline to expand and read the full testimonial.
Have you received a BSH grant and want to share your experience in a text or video format? Please contact communications@b-s-h.org.uk.
ASM Grants
Some of our ASM grant ambassadors have told us about their experience and learning at the 2018 Annual Scientific Meeting in Liverpool.
Dr Maria Teresa Esposito - ASM 2018
"I attended the conference not only to widen my scientific knowledge and keep abreast with the most recent developments but also to learn in particular about the research in the UK and establish new collaborations."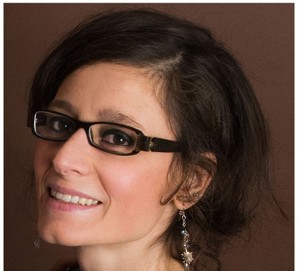 Dr Maria Teresa Esposito, Senior Lecturer Biomedical Science, University of Roehampton
It is a great pleasure for me to report on the 58th Annual Scientific Meeting of the British Society of Haematology and I take this opportunity to thank the society for enabling me to attend it.
I had been a member of the society for two years and this year I attended the meeting for the first time. I have recently started my independent research programme on Mixed Lineage Leukaemia, a particularly aggressive acute leukaemia. As a young independent investigator, I attended the conference not only to widen my scientific knowledge and keep abreast with the most recent developments but also to learn in particular about the research in the UK and establish new collaborations.
I was impressed by the quality of talks, which were of interest for both clinicians as well as basic scientists. I also found the size of the meeting ideal for early career researchers to enable networking and exchange of ideas with colleagues.
The meeting started with three excellent presentations that introduced three hot topics in haematology, Chimeric Antigen Receptor (CAR) T-cell therapy for haematological malignancies, current and advanced  treatment of sickle cell disease and how next generation sequencing enables scientists to discover driver mutations contributing to the development of Myelodysplastic syndrome.
Prof. Persis Amrolia from the Great Ormond Street Hospital gave an excellent overview of CAR T-cell therapy for haematological malignancies. CAR-T therapy is an adoptive cell transfer of T cells targeting CD19, a protein widely expressed in B-cell ALL. Last August FDA approved the first CAR-T therapy  for the treatment of patients up to 25 years of age with B-cell precursor acute lymphoblastic leukaemia (ALL) that is refractory or in second or later relapse. Although the results of the follow up are striking and indicate that patients enter full remission, the treatment comes with severe side affects including cytopenia. These were discussed in greater detail in a talk by Dr Shannon Maude from the Children' Hospital of Philadelphia and lead author of pioneer studies on CAR-T cells in ALL. Professor Amrolia is currently recruiting patients in UK to test the same technology on other haematological malignancies including Acute Myeloid Leukemia (AML), a leukaemia that is still incurable for over half of the patients receiving a diagnosis.  
Prof. Bob Lowenberg reviewed the advancement in the AML field obtained by next generation sequencing. This technology has enabled us to distinguish between driver and passenger mutations, identifying potential new targets for therapy but the heterogeneity of AML patients challenges the development of novel effective therapies indicating that more research is needed.
The poster session gave me an opportunity to discuss basic science with colleagues and to learn about the most recent work from Dr Claire Lucas from the University of Liverpool. We share interests in signalling pathways in AML and following the ASM we started a collaboration. We are both very excited to work together! This would not have been possible without the support of the British Society of Haematology and I thank the society for making it possible.
Catherine Morrow - ASM 2018
"I picked up a strong message from the conference that BSH is embracing and welcoming allied health professionals into the group and encouraging future involvement in future meetings and other related BSH activities. It was an enjoyable conference and I would encourage other nurses or AHPs to attend."
Catherine Morrow, Clinical Nurse Specialist at University Hospitals of Leicester
I am the Myeloma Clinical Nurse Specialist at University Hospitals of Leicester. I am very grateful for the grant from BSH, as it allowed me to attend my first BSH conference at Liverpool in April 2018.
As a myeloma clinical nurse specialist I was elated to find such a large number of myeloma-related sessions at BSH 2018. Working within the clinical areas it came as no surprise that there are still improvements and advances to be made to produce more durable and deeper responses to treatment particularly in relation to first line therapy, and this was a theme highlighted throughout the majority of the myeloma sessions. It is also apparent from looking at trials and developments discussed at the conference how far we have come from the historical perspective; this was apparent in the AL Amyloidosis results of the Alchemy study, which illustrated improvements in overall survival for this group of patients albeit still showing significant early mortality of which cardiac involvement remains the main determinant.
The UKMF sessions illustrated how myeloma treatment has significantly improved due to newer and novel treatments highlighting improved outcomes due to lenalidamide usage and it can only be hoped that such results will influence the ability to promote its usage earlier in treatment pathways.
From a nursing perspective, it was great to see the first nursing session taking place and led by a number of eminent nursing speakers. The session focussed on nursing innovation and the role and value of advanced level practice within the haematological nursing speciality. It served to highlight that nursing advanced practice is the norm and not the exception within haematology, and illustrated how nurses have developed practice to improve patient outcome and experience. The speakers were without exception inspirational in showing the pivotal role nursing leadership has played in transforming care and improving the life of patients.
This was echoed further in the multidisciplinary presentations regarding the future of the haematological workforce. This series of extremely interesting presentations and the subsequent discussion illustrated how the advanced pharmacist, physician assistant, clinical scientist and advanced nurse roles can assist, improve and add significant value to the speciality and to patients' experiences and management. It accentuated that at a time with a diminishing medical workforce nationally, the speciality needs to investigate and embrace potential models of working moving forward.
I picked up a strong message from the conference that BSH is embracing and welcoming allied health professionals into the group and encouraging future involvement in future meetings and other related BSH activities. It was an enjoyable conference and I would encourage other nurses or AHPs to attend.
Dr Rebecca Ling - ASM 2018
"The perhaps less tangible opportunity of the meeting was meeting other Haematologists, with similar areas of interest or at similar stage of training."
Rebecca Ling, ST3 Trainee, Guys and St Thomas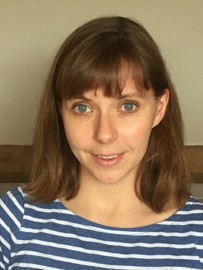 I would like to thank the BSH for the fantastic opportunity to attend this year's ASM. The welcome to the meeting began with setting out the aim to bring science applicable to clinical practice. This is pertinent to all those working in clinical haematology and provided a sense of real excitement about the future of the specialty.
In this report, I will set out highlights of the meeting, although difficult to distil into the allowed space and why this was especially valuable to me as a trainee.
The first session on 'The Appliance of Science' was kicked off by a truly inspiring talk from Persis Amrolia; giving an overview of the CAR-T cells, their remarkable successes in relapsed ALL and future directions to overcome the reasons for failure.  Likewise the following talk by Dr Ataga, on potential new therapies for sickle cell disease highlighting a need for new therapies and parts of the pathophysiology that might be amenable to treatment. Another stand out session was Crucible discussion on How Haematologists do harm.   This entertaining and truly thought provoking session prompted reflection on my own practice, particularly in interacting with patients with sickle cell disease.  The Meet the Expert sessions (sickle cell and platelet disorders) far exceeded expectations, in those I attended clinical cases and queries brought by the audience where great for exploring 'grey areas' where guidelines aren't simple to apply.  The final morphology session was also a treat, whilst some of the diagnoses felt quite challenging, the talked through rational approach by the experts put 'on the spot' was really helpful.
Aside from the clinical sessions another highlight was the breakout session on the use of social media for teaching undergraduates and trainees.  Here I learnt about resource 'TeamHaem' to supplement my own training, something I am now following on Twitter. The experience from Emergency Medicine and the use of the St Emlyn online tool highlighted an opportunity for Haematology training modalities, which complements existing training and can respond rapidly to new developments or controversies in the discipline. As I proceed through training I am keen to get develop this for future trainees. An example I would have found useful would be a crash course/blog on Haematological Emergencies prior to first ST3 on-call, I aim to pursue this in my patch.
The perhaps less tangible opportunity of the meeting was meeting other Haematologists, with similar areas of interest or at similar stage of training. The badge system and attendance to BSH ST3 days promoted this. I noticed another poster on area my project was based – PTLD, and was able to meet it's author and share insight and potential to work together going forward on a multicenter basis.
To conclude I found the three days in Liverpool both highly educational and inspirational. Both for the future of the specialty and what I might do in the near and medium term. Thank you once again.
Dr Oluwaseun Adelekan - ASM 2018
"I attended a number of sessions that informed me of the different collaborations, partnership and mentorship programmes that my colleagues back home in Nigeria and I could benefit from to improve patient care and outcomes."
Dr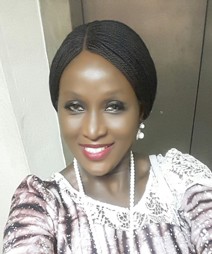 Oluwaseun Adelekan, Consultant Haematologist, General Hospital Lagos, Nigeria
First and foremost, I would like to sincerely thank the BSH for awarding me with the ASM scholarship which enabled me to attend the 58th Annual Scientific Meeting in Liverpool, UK. This gave me the opportunity for collaboration as well to gain deep insight and knowledge into the most recent advances about various haematological disorders.
I attended a number of sessions that informed me of the different collaborations, partnership and mentorship programmes that my colleagues back home in Nigeria and I could benefit from to improve patient care and outcomes. These include the ISTH collaboration, Medical Initiative programme by BSH, among others, which hitherto I had no knowledge about and I intend to disseminate this information.
The new knowledge I gained includes use of overdose of N-acetyl cysteine in the treatment of TTP to reduce the size of VWF, which reduces their interaction with platelets and is a cheap, less toxic, and easily available alternative which would be very useful for my patients. I also learnt that remarks such as "You're lucky to be alive" by doctors/haematologists to patients can lead to anxiety and other unintended negative impacts.
The research I particularly found interesting in the course of attending this conference is "Early Commencement of Hydroxyurea therapy in children with sickle cell disorders prevents high risk Trans-cranial Doppler development", by Lewis Ashmore, Louise Smith, Indrana Karpha, Kate Phillips, Russell Keenan. This is because I know some haematologists still shy away from the early use of hydroxyurea in children because of its side effects and I think this study would further help clear some doubts.
Additionally, I was able to initiate a contact with an organisation known as DKMS, whose aim is to assist patients in securing matched donors for transplantation. This may be beneficial for a few of my patients in my home country who need transplantation and can bear the financial costs involved. I also linked up with an organisation known as TeamHaem, who provide free opportunities for debates, discussions with other professionals, conference updates, as well as archived resources to encourage self-directed learning via social media. TeamHaem's work especially benefits those of us who do not have the opportunity to travel abroad frequently to attend conferences, thus help build capacity.
Furthermore, at the exhibition stands I engaged with a company that manufactures the new liquid methotrexate which is better than the bitter tablets or the intrathecal type which a lot of clinicians are weary about which are the alternatives currently available in my country. I was also able to initiate discussions with a company known as Cepheid who produce machines for BCR-ABL monitoring which would be of immense advantage for our CML patients undergoing treatment.
My interaction with The Myeloma UK has also inspired me to think of innovative ways of setting up a Myeloma support group in the hospital I currently work to provide support and information for our patients with Multiple myeloma.
Dr Betty Gration - ASM 2018
"The conference itself was even better than I anticipated. The choice of seminars really allowed me to see a bit of everything."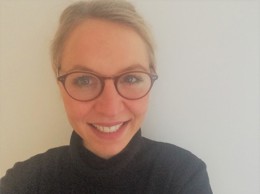 Dr Betty Gration, Core Medical Trainee, University College Hospital
I was delighted to have my poster entitled "R-GCVP As Second Line Treatment in Elderly Patients with DLBCL Who Fail R-CHOP and Are Not Candidates for Intensive Therapy" accepted at BSH ASM 2018. It was an honour to present my work among so many fantastic researchers and clinicians, not to mention the useful feedback I received and contacts I made for possible collaboration in order to take the work further.
The conference itself was even better than I anticipated. The choice of seminars really allowed me to see a bit of everything. As a core medical trainee, I am early in my career and so this was particularly useful as I was able to attend sessions on everything from Thrombotic microangiopathies to CAR-T cells. Choosing one highlight therefore is just too hard so I have listed a few below.
The Lymphoma Debate "CAR-T cells will be standard of care for R/R DLBCL within 5 years". This was extremely educational. Both speakers gave a nice summary at the beginning of their talks so that the topic could be understood even by non-specialists. This was followed by experienced insights into what seems an (almost) too good to be true prospect. My opinion definitely changed through the debate!
Dr Vanya Gant "Liaison Haematology". A very clinical lecture to nicely contrast the more research-based sessions. This was very entertaining but also very relevant with the serious risks we run with overuse of antibiotics. It certainly made me think twice when I next went to prescribe co-amoxiclav.
Professor Jude Fitzgibbon "Precision Medicine". I find personalised medicine a very exciting and motivating topic; greater understanding of the genomic landscape offers huge potential for diagnosis, risk stratification and treatment. My favourite part of this lecture was the encouragement to invest in future research through biomarker-driven clinical trials with parallel tissue collection.
"The crucible. How do Haematologists do most harm?" This was brilliant. All the speakers gave insightful speeches that they had clearly put a lot of work in to. It was encouraging to see such enthusiasm among medics with an array of experience. I was pleased that the judges had to choose the winner as I certainly couldn't have!
Thank you BSH and see you next year in Glasgow!
Early Stage Research Start-up Grants
Early Stage Research Start-Up Grants are available 30 June and 31 December annually. 
Apply for an Early Stage Research Grant.
The reports below may have had information redacted to ensure the confidentiality of sensitive research information or grant applications. The full reports will be made available once the sensitive content has been published. 
Dr Rhys Morgan - Early Stage Research 2016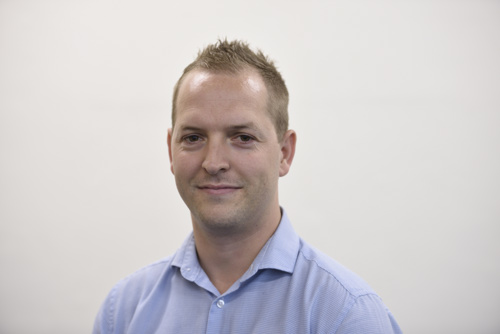 "...our now optimised experimental strategy has proved successful and the BSH grant has provided me with the novel and interesting data I require to build a more substantial and long-term research bid."
Wnt/b-catenin signalling is an evolutionary conserved signalling pathway critical for normal development and heavily implicated in human cancer. The central mediator, b-catenin, is frequently overexpressed in acute myeloid leukaemia (AML) where its expression is linked with inferior patient survival. Furthermore, well characterised experimental models of AML development have demonstrated b-catenin to play a pivotal role in leukaemogenesis, rendering the protein an ideal therapeutic target.
 The stability, subcellular localization and transcriptional activity of the central mediator b-catenin is dictated heavily by proteins interactions. To date, much of its molecular characterisation has been performed in epithelial cells, however b-catenin's haematopoietic interactome is likely to vary from its epithelial interaction network given its less prominent cell adhesion role (adherens junctions) in blood cells, and the relative scarcity of activating Wnt mutations (APC, Axin and b-catenin) which are frequent in solid tumours, but rare in haematological malignancy.
 Pertinent to the molecular targeting of b-catenin to disrupt its pathological role in AML, is the prior characterisation of its interacting partners in leukaemia cells. My BSH early-stage research start up grant has allowed me to assess the feasibility of performing b-catenin interactome studies in leukaemia cells for the first time. Specifically, we have trialled the process of co-immunoprecipitating (co-IP) b-catenin protein from both leukaemia cell lines and primary AML patient blast samples, followed by mass spectrometry analysis.
Obtaining research funds from major grant funding bodies would have been a considerable challenge given the perceived level of risk associated with our experimental approach. As a junior research scientist, I would have also struggled in more competitive funding schemes given my relative inexperience compared with more senior co-applicants in the field.
However, our now optimised experimental strategy has proved successful and the BSH grant has provided me with the novel and interesting data I require to build a more substantial and long-term research bid.
For further information, please see Dr Morgan's full grant report.
Dr Holger Auner - Early Stage Research 2016
This BSH award contributed to the successful application for a CRUK Small Molecule Drug Discovery Award that will be activated in 2019 and will focus on validating a potential new therapeutic target to overcome proteasome inhibitor resistance.
"The grant also enabled us to conduct a set of preliminary experiments that supported a successful grant application with an industry partner and another grant application that has been submitted to a UK organisation."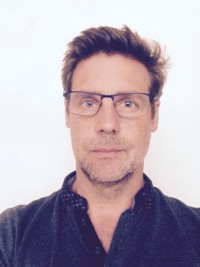 My research group works on aspects of intracellular protein homeostasis (proteostasis) in cancer cells and non-transformed cells, with a particular interest in multiple myeloma. The ultimate goal of our work is to find ways to disrupt proteostasis in malignant cells while largely sparing non-cancerous cells. This aim builds on the proposition that cancer cells, and in particular myeloma cells, are highly dependent on the mechanisms that co-ordinate protein degradation and synthesis. This notion is supported by the clinical success of inhibitors of the proteasome, the main effector of intracellular protein degradation.
The BSH grant allowed us to complete a set of experiments that formed a key part of a project that has now been completed, with a manuscript under review (May 2018). The grant also enabled us to conduct a set of preliminary experiments that supported a successful grant application with an industry partner and another grant application that has been submitted to a UK organisation. While the experiments that were funded by the BSH grant formed part of a larger work programme, the results of these experiments became important components of both the submitted manuscript and the grant applications, providing critical support for our conclusions and hypotheses.
For further information, please see Dr Auner's full grant report.
Dr Yeong Jer Lim, ASH Travel Scholarship, 2018
"These 3 reasons have not only given me motivation in my career as a haematologist to further expand my knowledge and to deliver the best care to my patients, but also have contributed to my development as a well-rounded haematologist."
---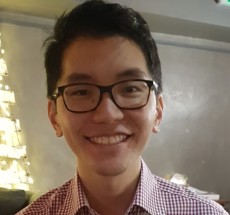 I have thoroughly enjoyed my experience attending the 60th annual American Society of Hematology Annual Meeting & Exposition in San Diego for numerous reasons. I greatly benefited from the extensive and well planned programme and was struck by how much effort in placed into educational sessions that are geared towards haematology trainees. I have definitely improved and updated my knowledge of the pathophysiology, diagnostic and management process of various haematological diseases. One session that I found particularly interesting was titled "Low Iron Promotes Megakaryocytic Commitment of Megakaryocytic-Erythroid Progenitors in Human and Mice1" which showed the pathophysiological process behind why iron deficiency anaemia is often accompanied by thrombocytosis. A question many times asked during my medical student teaching sessions that I am unable to answer.
Secondly, I also had the opportunity to present a poster titled "Long-Term Safety and Efficacy of Autologous or Allogeneic Donor Stem Cell Transplantation in Patients with Behçet's Syndrome" and had another abstract that I co-authored titled "Randomized Trials of Autologous Hematopoietic Stem Cell Transplantation for Diffuse Cutaneous Systemic Sclerosis: Systematic Review and Meta-Analysis with Trial Sequential Analysis of Overall Mortality" being presented as an oral poster. Being given this opportunity has definitely further developed my interest in research and have motivated me to continue to be involved in research in a local and national level whenever the opportunity arises.
Thirdly, this annual meeting has given me the opportunity to interact with haematologists from all around the globe. We were able to exchange experiences and I was able to see how haematological conditions are being managed differently in other developed or developing countries which has opened my eyes and given me a broader perspective of the overall issues surrounding haematology.
In conclusion, these 3 reasons have not only given me motivation in my career as a haematologist to further expand my knowledge and to deliver the best care to my patients, but also have contributed to my development as a well-rounded haematologist.
References:
Low Iron Promotes Megakaryocytic Commitment of Megakaryocytic-Erythroid Progenitors in Human and Mice. Juliana Xavier-Ferrucio, Xiuqi Li, Vanessa Scanlon, Ping-Xia Zhang, Nadia Ayala-Lopez, Toma Tebaldi, Stephanie Halene, Karin E. Finberg and Diane S. Krause. Blood 2018 132:2; doi: https://doi.org/10.1182/blood-2018-99-115214
Dr George Adams, ASH Travel Scholarship, 2018
"It has been a wonderful experience and a great opportunity for me especially at this early stage in my scientific training."
---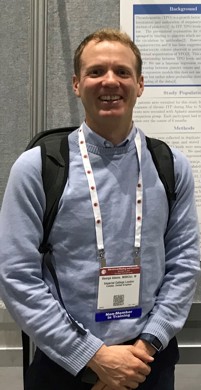 The American Society of Haematology (ASH) conference this year was held in sunny San Diego, California. The conference was celebrating its 60th anniversary and it lived up to my expectations. As a clinician, albeit one who has recently started a PhD in megakaryocyte biology, the conference provided an opportunity to get updates about the latest trials and evidence. One of the big talking points of the conference was the presentation of data from genome-wide association studies (GWAS) on the heritability of de novo AML which indicated that up to 20% of patients might have an inherited genetic disposition to developing the condition. Other notable highlights were the results from trials looking at the utility of direct oral anticoagulants (DOACs) in malignancy-related VTE. Sickle cell disease also featured highly with a number of fascinating educational sessions reporting on the progress in gene-editing of the beta haemoglobin gene, which may present a potential 'cure' for the condition without the need for a bone marrow transplant. This year's conference had a number of superb educational scientific talks within the area of haematopoiesis (the focus of my PhD), such as "stress and haematopoiesis", "thrombopoeisis and the lung" and "how to make a red cell". These talks summarised both the key discoveries in the field and also gave some insights into where the field seems to be going in the future.
The conference was also an opportunity for me to present my own work and to discuss my findings and approaches with other scientists and clinicians. My poster, titled "Bayesian analysis of TPO in immune thrombocytopenia", is part of the larger body of work which aims to understand how the immune system affects the normal functioning and regulation of megakaryocytes in both autoimmunity and inflammation more generally. Using novel mathematical approaches and computer simulations I generated a model of TPO production in immune thrombocytopenia. The work attracted a great deal of interest and inspired lively discussion both about the research itself and about possible future directions the work could take.
I am very grateful to the BSH for sponsoring my attendance to the conference. It has been a wonderful experience and a great opportunity for me especially at this early stage in my scientific training.
Amy Christian, Travel Scholarship, New York City 2018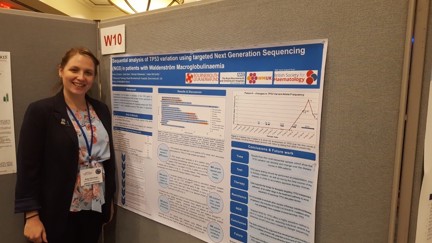 "Without the support of the BSH and their travel scholarship, I would not have been able to attend this exciting event and present our group's research"
10th International Workshop on Waldenström's Macroglobulinemia
New York Marriott Downtown, New York, NY
October 11-13, 2018
The 10th IWWM conference was held in New York City, USA this year, in a historic area near to Wall Street and the 9/11 Memorial Museum.  The conference was an extremely well organised 3 day event with presentations covering a range of topics relating to WM. There were sessions on the genomic landscape of WM, diagnosis and management of the disease, clinical trial updates and resistance mechanisms. 
Without the support of the British Society for Haematology and their travel scholarship, I would not have been able to attend this exciting event and present our group's research. Our abstract entitled "Sequential analysis of TP53 variation using targeted Next Generation Sequencing (NGS) in patients with Waldenström Macroglobulinaemia" was selected as a poster presentation and this was shown at the poster viewing reception on Friday 12th October.  Our research showed that TP53 variation can develop over the course of the disease in WM patients. This implies that TP53 testing should be performed both at presentation and prior to any therapy initiation during the time course of the disease in order to accurately appraise therapy choices.
One of the most interesting topics for me was a talk by Irene Ghobrial from the Dana-Farber Cancer Institute on whether cell free DNA (cfDNA) can be used to assess mutation status in WM. Her group found almost 99% concordance between somatic mutations found in liquid and tumour biopsies. The application of this technique is extremely sensitive with batch sampling proving cost effective. The idea was most appealing to me for use in sequential sampling of the patient over time, enabling minimally invasive procedures and avoiding the use of repeat bone marrow aspiration.  Despite the bulk of disease occurring in the bone marrow, this group have shown that cfDNA from peripheral blood can better reflect the tumour heterogeneity. One of the keynote speakers, Dan Landau, also discussed this method of testing as a useful way to study the evolutional landscape of Ibrutinib resistance, with his expertise based on studies in Chronic Lymphocytic Leukaemia (Landau, et al 2017).  This was another key theme of the conference with Ibrutinib resistance becoming more common with increased use of BTK inhibition in this patient cohort. The outcome of these discussions led to the opinion that combination therapy rather than single agent therapy is the key to overcoming clonal evolution of resistant clones.
I would like to thank the BSH committee for their generous Travel Scholarship award of £1000 which enabled me to travel to New York, USA for this conference. The experience has been invaluable and I hope will impact my research work both now and in the future.
---
Landau, D.A., Sun, C., Rosebrock, D., Herman, S.E.M., Fein, J., Sivina, M., Underbayev, C., Liu, D., Hoellenriegel, J., Ravichandran, S., Farooqui, M.Z.H., Zhang, W., Cibulskis, C., Zviran, A., Neuberg, D.S., Livitz, D., Bozic, I., Leshchiner, I., Getz, G., Burger, J.A., Wiestner, A. & Wu, C.J. (2017) The evolutionary landscape of chronic lymphocytic leukemia treated with ibrutinib targeted therapy. Nat Commun, 8, 2185.
Dr Peixun Zhou, Travel Scholarship, Rotterdam, Netherlands 2018

"Without this I would have not had the chance to present my data to experts in NHL or get valuable feedback from them."
I would like to take this opportunity to thank BSH for supporting me attending the Sixth International Symposium on Childhood, Adolescent and Young Adult Non-Hodgkin Lymphoma (NHL) in Rotterdam, the Netherlands. This 4-day symposium focused on translational research and clinical trials in paediatric and young adult NHL.
During the symposium, I had the opportunity to present our work entitled "investigation of FOXO1 mutations in paediatric endemic and sporadic Burkitt lymphoma", which was selected as an oral presentation in the poster discussion session. This study described high frequency of FOXO1 mutations in Burkitt lymphoma (BL), as well as an oncogenic role of FOXO1 in BL making it a potential therapeutic target. I also had the chance to engage with senior researchers from around the world who gave suggestions and criticism which helped us putting together this work into a manuscript after the symposium and submitted for publication.
This conference broadened my knowledge on recent progress in paediatric and young adult NHL, such as current molecular and bioinformatics research, ongoing clinical trials, global clinical experience (especially developing countries), stem cell transplantation, patient stratification and recent improvement in treatments. One particularly interesting research field was chimeric antigen receptor (CAR) T cells. Gardner et al demonstrated efficacy of anti-CD19+ CAR T-cells in paediatric relapsed or refractory NHL with well-tolerated toxicities in a phase II trial. Ryotaro Nakamura improved in-vivo expansion of CAR T-cells by developing CMV-CD19 bi-specific T-cells with CMV vaccine stimulation, which has progressed to phase II clinical trial (British Journal of Haematology, 182, (Suppl. 1), 5–109). These studies offered hope to paediatric NHL patients who failed front-line therapies and stem cell transplantation.
Overall, this was a focused and informative conference, which kept me updated in recent NHL research and clinical trials, also provided the opportunity to network with researchers from other countries and establishment of potential collaborations. Once again, I am very grateful to BSH for granting me funding to attend this symposium. Without this I would have not had the chance to present my data to experts in NHL or get valuable feedback from them.
Dr Cristina Pina - ASH Travel Scholarship 2017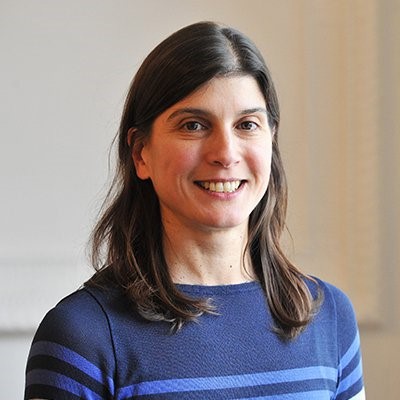 "Critically, I initiated 2 collaborations only possible due to my attendance of the meeting."
Thanks to the generous support of BSH, I was able to travel to Atlanta to attend the 59th Annual Meeting and Exhibition of the American Society of Haematology. I presented my group's work, entitled Histone Acetyl-Transferase Kat2a Regulates Transcriptional Heterogeneity and Impacts Self- Renewal of Acute Myeloid Leukemia Cells in a Disease-Specific Manner, at the conference and enjoyed multiple opportunities for discussion. Critically, I initiated 2 collaborations only possible due to my attendance of the meeting.
The ASH meeting is an intense yet highly rewarding experience that articulates clinical with basic science perspectives and audiences. The unpublished or recently-published nature of the work presented provides investigators with very clear and live notions of the directions the field is taking. This assists young Principal Investigators such as myself in making strategic decisions at project bifurcations. Moreover, the quantity and diversity of sessions on display inevitably sheds new light on the interpretation of one's own data.
This year, from a basic research perspective into myeloid malignancies, there were very clear focuses on the role of metabolism, particularly mitochondrial metabolism, in influencing leukaemia progression. A more recent, but equally timely area of research, was the articulation between epigenetic regulation and alternative splicing, a novel theme for which there is a strong body of emergent evidence, whilst precise mechanistic connections are still being defined. The idea that epigenetic dysregulation inherent to myeloid malignancies may perturb not only the quantity, but also the quality, of gene expression, is remarkably interesting to me.
I focus my research on the contribution of transcriptional heterogeneity to fate transitions in Acute Myeloid Leukaemia (AML), and employ manipulation of individual epigenetic regulators to promote differentiation or death of AML cells with therapeutic intent. I had previously viewed epigenetic regulators as sensors and translators of metabolic cell status into initiation, processivity, and/or suppression of gene expression. 
The association with alternative splicing, suggests that metabolic status and availability of intermediate metabolites, can additionally modify the protein diversity of the cell, with generation of variability in, and complex re-wiring of regulatory networks. I had encountered tentative associations between metabolic status, splicing and protein synthesis in my own data, which now take shape in light of substantive unpublished data presented at the conference. 
My travel to ASH, much as everybody else's, was complicated by the extreme cold weather conditions in Southern States, and I eventually arrived in Atlanta a day later than expected, and by taxi rather than plane. Despite the bumpy start, ASH proved to be the enriching experience I had anticipated. It generated numerous ideas that already bear fruit in my group's research, and I thank the British Society of Haematology, as well as my own Fellowship funding body, the Kay Kendall Leukaemia Fund, for having made this trip possible.
Dr Claire Lentaigne - ASH Travel Scholarship 2017
"Since my talk I have been approached by clinicians from around the world with interest in our study and have been able to bring haematologists and scientists working on specific diseases together"
The BSH travel scholarship enabled me to travel to ASH in Atlanta this year. My abstract entitled 'High-throughput Sequencing in patients with inherited bleeding and platelet disorders: novel gene discovery and robust diagnosis' was selected as one of the top 6 abstracts (out of more than 6000) for presentation in the ASH plenary scientific session. This was a wonderful opportunity for me personally and professionally. The work I presented is the culmination of several years of collaborative work from an international team of clinicians, geneticists and laboratory and computational scientists and has been the focus of my PhD research. Showcasing my work on this platform at ASH enabled me to bring our research to a wider audience and show how high-throughput sequencing using whole genome sequencing and a targeted gene panel is transforming diagnosis for patients with rare coagulation, thrombotic and platelet disorders.
Since my talk I have been approached by clinicians from around the world with interest in our study and have been able to bring haematologists and scientists working on specific diseases together. I have also had interest in sequencing more patients on our gene panel and it is great to have been able to spread the word and get more people using this resource.
Giving a presentation like this was a great privilege and I learnt a lot about how to prepare for and talk to a large, diverse audience.
This was my first trip to ASH and I also appreciated the diverse quality of presentations across the field of haematology. Having spent the last few years doing a PhD in rare bleeding and platelet disorders, it was refreshing to be reminded of the many advances in other areas of haematology and how interesting it is being a haematologist! I also attended some of the education sessions which were really useful for my clinical practice.
Finally, giving a presentation at ASH was an ideal way to meet haematologists and scientists with an interest in my area of research from across the world, and also to meet up and maintain links with colleagues across haematology. I am enthused to carry on and make the most of this opportunity. It was an invaluable experience and many thanks to the BSH for their support in making it possible.
Dr Elaine Willmore - Travel Scholarship, New York City, 2017
BSH Travel Scholarship supported Dr Willmore to attend International Workshop in New York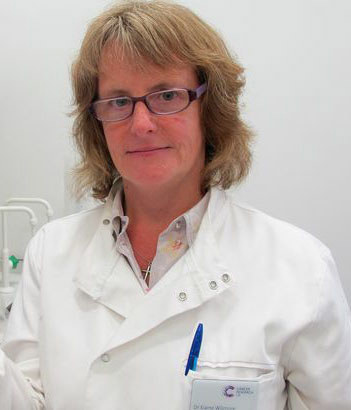 I'm very grateful to BSH for the travel grant to support my attendance at the international workshop on Chronic Lymphocytic Leukaemia (CLL) in May, 2017. The workshop is a 4 day meeting with a blend of clinical/translation studies and basic biology, with the aim of advancing the understanding and treatment of CLL (and associated malignancies).
The workshop opened with sessions focused on the factors leading to the development of CLL, including a description of familial CLL (Tait Shanafelt) describing how 10% of patients have first degree relatives with CLL. Monoclonal B-cell lymphocytosis (MBL) may also contribute to the development of CLL and genome-wide studies have identified 9 loci that are associated with an increased risk for CLL. Richard Houlston explained how SNPs conferring risk for CLL map to areas of open chromatin where they may be involved in regulation of gene expression.
At the meeting, I also had the opportunity to present a poster entitled "Activation of p53 by the MDM2 antagonist RG7388 in CLL cells ex vivo triggers cell death via a pro-apoptotic gene signature". The poster describes part of our recent work from the Cancer Research UK Drug Discovery Newcastle team, who are working in alliance with Astex Pharmaceuticals. We are investigating how MDM2 antagonists may be used in CLL, particularly as this represents a non-genotoxic therapy with minimal effect on normal cells. The poster was well received and gave me the opportunity to engage with others in the field and consider possible combination therapies using MDM2 antagonists.
Finally, these relatively small workshops facilitate interaction, and I was able to meet with two collaborators to discuss recent data and progress future directions with novel small molecule inhibitors that are of mutual interest. Many thanks to BSH for this award, which was much appreciated.
Student Elective Scholarships
Video: Sunay Gangadharan talking about his elective studies
I used the BSH grant to fund my elective and I went on elective in India. I went to part of India called Kerala which is where my parents are from. I've been to Kerala a few times but never experienced the healthcare system, and I was particularly interested in how cancers were treated, in particular blood cancers, in that part of the world. I was looking for funding for my elective and I happened to do an internet search for funding and I found it on...I think it was a website called money for medical students, and I found BSH and the requirements were very very few. So I just applied for it and they wanted a report or some evidence of academic standing and what extra-curricula activities I participate in. And they accepted my request.
The BSH grant has opened a lot of doors for me. It has allowed me to and see things in my chosen country that I probably wouldn't have had the opportunity to see, such as lab experience. I am able to pay more money into seeing things such as FISH and SCI procedures are done in the laboratories, which is probably not accessible to see in the UK unless you get special permission.  So that's that's really helped me a lot. The highlight of my elective was going to an outpatient clinic on my first day and being given a stack of notes and being asked to clock in patients in a totally different language. That was a great experience. The BSH grant has changed my experience of haematology, being able to see various presentations of haematology, things I had never seen in the UK, and it allowed me to see things that I'll probably never see again in my lifetime and I'm very grateful to the British Society of Haematology for that.
Katie Parrott - Student Elective Scholarship 2018
"This elective has truly changed my future in medicine."
Katie Parrott, University of Birmingham
Location of elective: Sri Lanka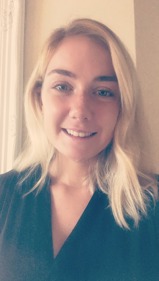 Firstly, I would like to thank the British Society of Haematology for the grant they have awarded me. This allowed me to visit the country of Sri Lanka, meet patients suffering with serious diseases and their families. This experience will certainly change the way I practise medicine in the future. Had it not been for this bursary I would not have had the opportunity to study in Sri Lanka, and therefore I could not be more grateful. I studied in the southern state of Sri Lanka, in the city of Galle, splitting my time between Karapitiya teaching hospital and various community clinics and medical facilities, allowing me to fully experience a completely different healthcare system.
I chose to do this report on haematological malignancies in Sri Lanka as, after some initial research, I found that after accidental death, haematological malignancy is the second most common cause of death in the entire country, making it an important public health concern for Sri Lanka. Furthermore, although Sri Lanka has some public funding for healthcare, there are limited resources, which makes charity assistance a necessity; particularly with regards to patient support. However, in the southern province of the island, there is very little charity support for paediatric patients suffering from leukaemia. The northern province has its own charity, so I was intrigued to speak to patients and their families and find out their personal experiences.
I first spent 2 weeks with paediatric hospital inpatients, going on the oncological specialist ward rounds that visited the unit, and then speaking to the families of the patients on the ward. It struck me how much a role the child's parents play on the wards here; it is essential for there to be a family member with every patient, and they are much more intricately involved in the patient care than we see in Great Britain. The parents would be with the child all day during their stay on the wards, making sure the child's needs were met and acting as the responsible adult for each child. A lot of treatment for leukaemia is carried out as a hospital inpatient in Sri Lanka, therefore the child will spend a great deal of time in hospital. As mentioned, the parents are vital in the child's care, and therefore it is a great difficulty for the whole family to be caring for the child whilst in hospital. I learnt that there is a large paediatric haematological malignancy unit in the countries capital, Colombo. This means that for the patients who live outside of one of the large cities, they may need to travel to one such a facility, and spend a long time there caring for the child, with relatively little charitable support compared with what we experience in Great Britain.
Furthermore, the time spent on the wards really helped develop my scientific understanding of haematological malignancies, and their chemotherapeutic treatments, in the paediatric population, which is something I have never had much experience with before. This was invaluable for my learning; I now understand what it is that these patients truly go through on a day to day basis, which is so important to see first hand to fully appreciate the immensity of it.
I spent the following two weeks on community medicine posts, which focused on serious paediatric conditions, prioritising haematological malignancies. Here, my focus was much more on the family experience of the disease and the treatment and care they received. The thing that struck me most about this period of study was the difficulty experienced by parents if they are worried that their child may be showing signs of illness. There are no publicly funded GPs, instead children receive basic health checks whilst at school. Doctors visit larger schools at grades 1, 4, 7 and 11, giving the children vaccinations and giving an overview health check. However, even in these situations, it would be difficult to pick up signs of a haematological malignancy, unless the child verbally discussed any complaints themselves. Other than the school checks, the only other ways a parent can get their child seen would be to pay for a private general practitioner; which many patients do not have access to; or to queue up at the hospital, from the early hours of the morning and hope to see a general paediatrician who can examine the child thoroughly. However, it can take hours to be seen by a doctor in this way; arriving at the hospital at 9am, the corridors would already be filled with patients and families hoping to be seen by a doctor. Other than the access to care, most families reported feeling incredibly lucky to be treated at such an amazing facility, and had nothing but praise for the care they had received.
This elective has truly changed my future in medicine. It has taught me not only a great deal about the scientific and medical intricacies of treating haematological malignancies in paediatrics, but also it has truly opened my eyes to a healthcare system that has such a core role for the patient's family, and I feel very lucky to have witnessed this first hand. Thank you to BSH for giving me this opportunity and helping to shape my future career.
Mina Ibrahimi - Student Elective Scholarship 2017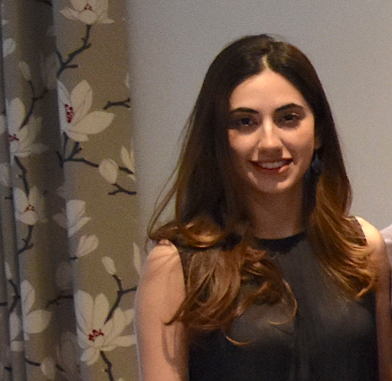 "I experienced challenging and educational medicine whilst learning how to holistically manage complex and very unwell paediatric patients"
Mina Ibrahimi, medical student, University of Cambridge
Location of elective: Seoul National University Hospital, South Korea
Firstly, I would like to say a tremendous thank you to the British Society for Haematology for awarding me a Student Elective Scholarship, without which my elective would not have been possible. For my elective, I travelled to Seoul National University Hospital (SNUH) in South Korea to undertake a placement in paediatric haematology, a speciality in which I have been interested throughout my time at medical school. As one of South Korea's leading tertiary hospitals with a 300-bed children's hospital, SNUH was an attractive location for me to gain a breadth of experience in both specialist and core haematology.
During my placement, I was supervised by Professor Kang Hyoung Jin, who has a specialist interest in the development of novel treatments for refractory leukaemia. I integrated into his team and spent time attending handover, ward rounds and clinics; as well as weekly radiology meetings, pathology meetings and journal clubs. I was also given the opportunity to attend clinics for benign haematology. I was able to learn about the clinical trials they were undertaking and the process that this entails, both administratively and clinically.
During my elective, I completed two literature review projects that I presented at departmental meetings. The first review was centred on the key genetic mutations in acute myeloid leukaemia, their effect on prognosis and potential for targeted therapies, and the second review concentrated on key haematological tumour antigens and related immunotherapies. This was a very useful opportunity for me to read about certain areas of malignant haematology in depth, allowing me to gain a good overview of promising future directions in these fields.
With South Korea being so culturally and socially different from the UK, I had to adapt to difficult communication and differing patient expectations. The approach to offering investigations and discussing disease with patients was also very different from my previous experiences, with a focus on explaining pathology in detail, and it was interesting to see how this changed patient experience of healthcare. I was able to appreciate the remarkable work ethic and time management skills of the clinical team, from attending to over fifty patients in a single ward round to seeing patients in clinic with a turnover of five minutes.
Rory Graham - Student Elective Scholarship 2017
"I feel the most enjoyable aspect about an elective is the freedom to explore the areas you are passionate about without the restrictions placed on you to complete cases and course work."
Rory Graham, 5th year medical student at Glasgow University
Location of elective: Schiehallion Ward, Royal Children's Hospital Glasgow
'Paediatric oncology with interest in haematology' at the Royal Children's Hospital Glasgow was a four week venture into the Schiehallion ward. Under the supervision of Dr Ronghe I was able to diversify my learning between the three specialties that share the ward; oncology, haematology and transplant medicine. Partaking in ward rounds and clinics of these three specialities as well as visits to the lab and apheresis unit at Gartnaval Hospital I was able to see a vast amount in four weeks.
In addition, I completed two projects; an audit in paediatric neuroblastoma patients and to complement this I completed a spreadsheet program to provide dates for a treatment plan for paediatric patients with neuroblastoma.
The core outcomes from my elective were to learn how paediatric medicine differs from adult, and to contribute to the field by completing an audit. During the completion of these educational outcomes I would learn through exposure to different scenarios how a paediatric doctor fulfils his duty of care to his patients. Observing the interplay of different health professionals would in turn add to my growing understanding of what it means to be a health professional.
My supervisor, paediatric consultant Dr Ronghe, listened to my goals and ensured I could access to the right people and facilities to achieve them. This introduced me to Dr Kenneth Douglas, consultant haematologist, who explained to me the challenges of treating paediatric neuroblastoma. This became my audit subject.
Treatment is guided by the SIOPEN trial, which dictates whether the patient receives the N7 or COJEC chemotherapy. Peripheral blood stem cell transplant is a critical component in the treatment of neuroblastoma patients as this ensures adequate populations of progenitor blood stem cells remain in the bone marrow of the patient. These cells are collected after chemotherapy once the bone marrow has had a chance to recover. However, the limited success of PBSC collections is thought to be contributed to by the design of the trial. My audit therefore centred on gathering data of which mobilising chemotherapy achieved the most successful PBSC collections.
In addition to my audit project another doctor provided me with a brief on a second project. He stated there was a need for a program that effectively planned each stage of the treatment protocol for the SIOPEN trail. What resulted was a program that required one date for starting chemotherapy. The code was such that an alteration in any of the dates, for example a delayed chemotherapy treatment due to line sepsis, would result in a rescheduling of all other dates to the new timetable. In this way a plan was available to both the healthcare team and the parents of the patient.
I was proud of the final product as when I took on the project I was not confident using excel to this end. I used my initiative and at the same time gained an understanding about trial design that will benefit me in interpreting the complex details of some trials.
Delving into this audit I developed my understanding of a new area of oncology. Neuroblastoma is an example of malignancy of embryonic stem cells. I understand now why blastoma type cancers are prevalent in children and how they are treated differently. This linked to the necessity of PBSC transplants in the treatment protocol.
Learning about PBSC transplants provided a link between oncology and haematology, my special interest. Autologous transplants are different to allogenic transplants as the aim is to encourage regrowth of the patient's native immune cells, in contrast to using the graft vs host effect to attack cancer cells.
Transplant and oncology specialities work together efficiently and communication is aided by sharing the same ward. MDTs are held daily and care is highly co-ordinated. I noted in particular how tightly care was co-ordinated and how this translated into benefit for the patient and their family. Parents were kept so well informed; in essence the doctor-parent relationship was the basis for a greater trust placed on the doctor than I had seen before.
The weight of responsibility on the doctors was intense. Occasionally the doctors' room was a place for consolation following conversations on dolorous topics with parents. The doctor must inform the patients carers in such a way to allow them to make decisions that may result in the death of their own child. The parent places trust in the doctor's knowledge, their opinion, and in the specialty as a whole. It was humbling to have had even a small role in the care of any patient. The privilege of treating any sick patient is something I never want to lose hold of in my career. Taking responsibility over the care of a human in the most vulnerable period of their life is a humbling experience.
The weight of the responsibility can be shared among the members of the team. Everyone in a team has a different background and views, but in Schiehallion I saw them brought together by their duty of care for their patients. The strength of a team comes from the safety they feel in their job. The confidence to make decisions does not come entirely from knowledge and experience, but also from the assurance received from being part of a dependable and cohesive team.
Ideally I would have liked to have completed my paediatric block prior to my elective as this would have given me a greater appreciation to just how different a paediatric speciality is compared to adult medicine.
I feel the most enjoyable aspect about an elective is the freedom to explore the areas you are passionate about without the restrictions placed on you to complete cases and course work. I am a student who works best with minimal guidance and the audit work and excel program I designed ware examples of my best work. I had a task and a deadline, I planned as best as I could and got the job done. The confidence that I have gained from looking back at my work and seeing that I have made a difference, seeing what I can do when I grasp opportunities, will be something I wholeheartedly take forward in my quick approaching professional life.
Charles Bell - Student Elective Scholarship 2016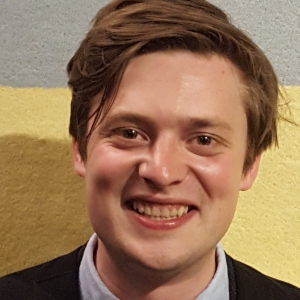 "This elective gave me a fantastic opportunity to develop my PhD skills and knowledge into a new area"
Dr Charles Bell, Bye Fellow (Medical Sciences), Murray Edwards College, Cambridge. College Teaching Associate, Queens' College, Cambridge. Foundation Doctor, University College London Hospital, London. Personal and CoTM Tutor, UCL Medical School, London. 
Location of elective: Bhardwaj Research Laboratory, Icahn School of Medicine, Mount Sinai Hospital, New York City.
As part of my PhD, I focused on the role of a subset of natural killer (NK) cells, CD56bright NK cells, following IL-2 therapy - the elective period was spent principally learning new techniques and applying them in the context of a new scientific area of interest, the role of NK cell exhaustion in melanoma, in a collaborative laboratory environment.
This has enabled me to explore further a field of interest (cancer immunotherapy) whilst also giving me more laboratory experience in a different system, and a greater understanding of the translation of therapies from bench to bedside.
The Bhardwaj laboratory has extensively studied the tumour microenvironment in melanoma, to understand whether the cellular dysfunction seen in T cells is also present for natural killer (NK) cells.
In particular, these studies have focused on the immunoregulatory protein T-cell immunoglobulin and mucin domain containing molecule 3 (Tim3), a mediator of exhaustion in T cells, understanding its role in NK cells and whether exhaustion of this cell subset contributes to disease progression.
These cells reduce their cytokine secretion in the context of melanoma, and this project was to further investigate the profile of such putatively exhausted cells.
I also had the opportunity to spend time with clinicians and others in the translational pathway to more fully understand how these treatments were moving from bench to bedside, and to observe their effects on patients.
The sheer speed of development of new therapeutics and the very impressive remission rates using such drugs is remarkable, and the effects on patients are extremely dramatic, both in terms of life lengthening but also in terms of quality of life.
In addition, I was able to spend time becoming familiar with new forms of personalised medicine, for example the use of tissue biopsy and humanised mouse models of tumour growth to characterise the genetics and test therapies or particular drugs in the context of their specific disease.
At present the model is not fast enough to impact directly upon the individual patient's care, but in the future the use of such techniques may revolutionise cancer care.
This elective gave me a fantastic opportunity to develop my PhD skills and knowledge into a new area – already having some skills developed in those years helped enormously, as I was able to immediately perform a number of experiments and pick up other techniques quickly. Working in a different environment from my PhD was also helpful, to really understand how different laboratories engage with the science, and the different research regulatory and academic environment was interesting to experience.
Overall, my elective most certainly did meet and exceed expectations. I am delighted to have gained a poster from the research period, I was made extremely welcome in the laboratory, and overall it must be said that New York City is a great place for both academic and social collaboration.
I would like to express my sincere gratitude to the British Society for Haematology, the University of Cambridge Clinical School (Hawkins Award), Queens' College, Cambridge, the Royal College of Physicians, the British Medical and Dental Students' Trust and the Gilchrist Trust for funding this amazing opportunity, and to Elena Gonzalez-Gugel and Nina Bhardwaj for their supervision, support and for making this possible.
Sunay Gangadharan - Student Elective Scholarship, Kerala, India 2015
BSH Student Elective Grant supported Sunay Gangadharan to travel to Kerala, India
"I was exposed to a wide variety of clinical presentations and I was able to gain a lot of valuable hands-on experience."
Firstly, I would like to thank the British Society for Haematology for sponsoring this period of elective study.
I carried out my elective in the state of Kerala, tucked away in the southwestern corner of India. I chose Kerala as my elective location as it is the place of my parents' origin and from previous visits to the India, it is somewhere I can identify myself with culturally. I was intrigued by the 'Kerala model' of development which has seen the state achieve the best living conditions in all of India. With only 3% of India's population, this diminutive state excels in indicators of social development such as low levels of infant mortality and population growth; the highest levels of literacy in the country, particularly among females; and higher life expectancy relative to the whole Indian population. These statistics are made even more impressive considering such indicators are comparable to many developed countries despite Kerala's per capita income being much lower in
comparison. I wanted to explore the basis for the state's impressive health standards and compare it to the National Health Service in the UK.
Unfortunately, Kerala is reported to have the highest number of cancer patients in the country. I wanted to study whether cancer care was proficient in Kerala so I decided to visit the Regional Cancer Centre (RCC), in the state capital Thiruvananthapuram. The RCC is an autonomous scientific institution sponsored jointly by the government of Kerala and the government of India, which prides itself on being an internationally recognised centre providing state-of-the-art care. I also had a specific interest in haematological malignancies and was allocated to observe in the Medical Oncology department. I was expected to attend the morning ward round where majority of patients were diagnosed with with either Acute Myeloid Leukaemia (AML), Acute Lymphoblastic Leukaemia (ALL) or Non-Hodgkin Lymphoma. Just as in the UK, all three are present in the top
twenty types of cancer. The ward looked barren, the only cooling was from ceiling fans and there were no curtains between patients' beds.
The ward round consisted of a senior resident and a nurse working in a pair, each reviewing the female and male bays, during which time each of the three consultants would pop in at various periods to check on their individual patients. The senior resident would check any outstanding blood results, palpate for any new lymphadenopathy, look inside the mouth for fungal infection and auscultate the chest for signs of respiratory disease. Once the rounds were completed, I was afforded the opportunity to observe patients receiving lumbar punctures and administration of intrathecal methotrexate as part of their chemotherapy regimen. The residents were amicable and keen to explain the intricacies of the various chemotherapy protocols.

I was briefed about routine investigations such as blood tests and what important parameters to look out for. I was able to observe how diagnostic methods were being employed in the laboratory. Bone marrow studies helped to identify possible chromosomal translocations and flow cytometry classified various cell populations that were used to identify types of leukaemia. Newer techniques such as fluorescence in situ hybridization (FISH) and spectral karyotyping (SKY) required in the identification of the Philadelphia chromosome were also shown to me.
During the afternoons, I was expected to attend outpatient clinics and these were undoubtedly the highlight of my trip. The outpatients department consisted of two consulting rooms with a room dedicated to procedures adjacent to them. The rooms were swelteringly hot and there were no facilities for cooling. Each room was smaller than the size of standard NHS consulting room and personnel were split with consultants being in one room seeing follow-up patients and junior doctors in the other clerking in new patients. There would always be 3 doctors in each tiny room working simultaneously, and up to 10 patients in a room including patients, nurses and relatives. I was overwhelmed by the turnover of patients within the department; one could argue it is up to three times as efficient as an NHS outpatient clinic despite there being a complete disregard for patient confidentiality. On my first day, I was handed a pile of new patient notes and was asked to call in patients to be clerked while being supervised by one of the postgraduate doctors. I found it extremely challenging to clerk patients in my native language Malayalam – even though I was reasonably fluent conversing with the local population, explaining or asking complicated medical concepts was a struggle and fortunately my supervisors often came to my rescue. 
There are vast differences in practice between the UK and India regarding communication from caregivers. I was present when bad news was broken to a patient about a cancer diagnosis in what seemed like an insensitive manner, without the classical 'warning shot' we are taught at medical school. The patient felt understandably devastated and being the breadwinner from a modest farming family, was fearful about the cost of treatment. Fortunately, at RCC cancer treatment is subsidised by the Indian government with more funding available for those on lower income.

There has been much discussion over the role of Ayurveda in cancer treatment. It is an ancient Indian system of medicine involving therapies based in complex herbal compounds, prayer, meditation and nutritional supplements as a means of healing from cancer. According to Cancer Research UK, there is no scientific evidence to prove Ayurveda can treat cancer. Experts at RCC I spoke to corroborated this conclusion and further went on to mention how some patients try
alternative treatments first due to their perception of the financial burden a cancer diagnosis may create, which then go on to fail, resulting in patients presenting late at a stage their disease cannot be cured. 
Overall, I have enjoyed my trip to Kerala. The weather was fantastic, the people were a joy to work with and the food was both delicious and cheap! I was exposed to a wide variety of clinical presentations and I was able to gain a lot of valuable hands-on experience. Being thrown into the deep end by being asked to communicate in a different language, diagnose and work out appropriate treatment strategies proved to be an important character building experiences. I will definitely be carrying forward these positive experiences into my own clinical practice.