BSH committee vacancies
Volunteers play a crucial role in helping to deliver the Society's charitable objectives. We have a wide range of opportunities for those who wish to get involved in BSH's activities.
Video: Volunteer with BSH
BSH committee members and Trustees talk about the benefits of volunteering on one of our committees.
The benefits of volunteering include
Helping us to fulfil our mission of transforming patient care through excellence in haematology 

Getting involved with interesting projects

Meeting and networking with peers

Using your knowledge to help others

Learning new skills
Please be aware that Committee vacancies are only open to BSH members.
Haematology Images for The Royal College of Pathologists Building
The Royal College of Pathologists are looking for some images to help decorate their new building. Images representing haematology and also transfusion medicine/science would be gratefully received.
They are looking for very high quality images that are at least 300 dpi at 2.4 meters actual height. This is because if the images are lower quality than that they will pixelate when blown up to that large scale. Ideally the images should be abstract as this is an art installation rather than a pathology one, something colourful would be great.
If you have a suitable image please contact
Daniel Ross, Chief Executive
The Royal College of Pathologists
Email: Daniel.ross@rcpath.org
RCPCH and Newlife Clinical Research Fellowship Award
The RCPCH and Newlife - The Charity for Disabled Children have announced their first joint clinical research fellowship award in childhood disability. 
Full details, eligibility criteria and application materials can be found here
The deadline for receipt of applications is no later than 9:00am Monday 4 November 2019.
Chair National Blood Transfusion Committee (NBTC)
Chair National Blood Transfusion Committee (NBTC)
The National Blood Transfusion Committee (NBTC) promotes safe and appropriate clinical and laboratory transfusion practice across all hospitals in England. It has multi professional representation and reports to NHS England.
The Chair of the Committee is responsible for steering activities of the NBTC and providing advice and support to its working groups and the Regional Transfusion Committees. The Chair represents the NBTC on the National Commissioning Group for blood (NCG) and as an observer on the Advisory Committee on the Safety of Blood, Tissues and Organs (SaBTO) which advises UK ministers and health departments on key safety issues.
The postholder will be a consultant working in hospital practice and will provide professional leadership as Chair of the NBTC in promoting best practice in transfusion to support the needs of patients across the NHS.
The deadline for applications is 1st November 2019. Please submit a brief CV in support of your application. Interviews will be arranged for the end of November or the week beginning 2nd December 2019.
For further information please contact:
Celina.Bernstrom@nhsbt.nhs.uk
Royal College of Pathologists (RCPath)
The Royal College of Pathologists is seeking to recruit new audit evaluators for haematology.
Applicants should be Fellows of the College, have knowledge of the clinical audit process and be experienced in undertaking high-quality clinical audit. Evaluators are responsible for evaluating whether the criteria and standards of audits for certification are met appropriately for your own specialty.
Further details on this process can be found here & job description here
To apply please submit an abridged CV, one of your own audit reports, and a statement in support of your application (no more than 500 words), explaining how your skills and experience meet the person specification and how you would approach the role if appointed.
For further information and to apply for the role, please contact Kate Stewart at audit@rcpath.org.
The Academic Section of Vascular Surgery at Imperial College London are conducting a survey evaluating the impact of the Acute Venous Thrombosis: Thrombus Removal with Adjunctive Catheter-Directed Thrombolysis (ATTRACT) Trial on clinical practice. They would be grateful if you could spare 3 to 5 minutes to share your experience.
Link to the survey: ATTRACT Trial Survey
Please direct any questions or comments regarding the questionnaire to Aleksandra Staniszewska (a.staniszewska@imperial.ac.uk).
Physical Activity during and after treatment for blood cancer: perspectives of haematology healthcare professionals
Are you a health professional working with people with blood cancer in the UK?
Please consider taking part in this questionnaire about physical activity during and after blood cancer treatment
Health Professionals (HPs) can play a part in promoting appropriate physical activity before, during and after cancer treatment. However, most of the research in this important topic has been carried out with HPs predominately working with patients with solid tumours, such as breast, colorectal and prostate cancer. There is limited evidence on the opinions of HPs working in haemto-oncology on physical activity guidelines for patients undergoing active treatment for blood cancers and their perceptions of what physical activity or exercise patients should do as part of, during or after their treatment. There is no published research solely focused on haemato-oncology HPs. We are seeking to gain insights on this topic from health professionals working with people with blood cancers, including doctors, nurses, allied health professionals and support workers, via this brief online survey.
The survey takes approximately 10 minutes to complete, and you can only access the link once, so remember to click 'Save' if you need to leave and return to the survey before completion.
Visit https://opinio.ucl.ac.uk/s?s=60053 to access the survey or contact Orla McCourt from the UCL Cancer Institute orla.mccourt.18@ucl.ac.uk for more details. Deadline 31st October
ASM Morphology Session - Submit your interesting cases
In preparation for the BSH Annual Scientific Meeting Morphology session we would be grateful if you would submit any interesting cases for possible inclusion. Any interesting general or malignant cases will be considered and slides can be of peripheral blood, BM aspirate, other fluids eg pleural aspirate, CSF, lymph node biopsies or BM trephines etc.
Only ONE slide is required of each specimen (though you may send more than one specimen relevant to the case eg a PB and a BM slide) together with very brief clinical and laboratory details and final diagnosis.
If accepted, we would very much like it if your trainee or yourself could present 3-6 PowerPoint slides about the diagnosis with additional clinical or diagnostic details after the 'Expert' has presented their thoughts on the case.
We will let people know if their slides have been accepted and would ask those submitting slides or a representative to be available to talk to the case on the day with 3-4 PowerPoint slides with clinical and diagnostic details.
Please address the slides with brief clinical details to: 
"BSH slides for Roger Owen's attention ASM 2020"
HMDS Laboratory
Level 3
Bexley Wing
St James's University Hospital
Beckett Street
Leeds
LS9 7TF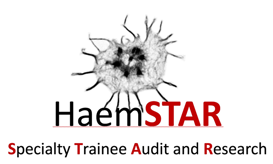 About HaemSTAR
HaemSTAR is a national network of haematology registrars aiming to promote and create research in non-malignant haematology. One of the areas we promote is audit. There is often difficulty in recruiting patients to audits for non-malignant disease, either due to reduced investment into projects relative to malignant haematology audits, or because of the rarity of conditions such as TTP. The aim of HaemSTAR is to use a central committee to either create non-malignant audits, or to promote audits started in trusts around the country to enhance uptake. The committee then disseminate information about these studies to regional leads in each training region. These regional leads then disseminate that information to their registrar colleagues. This allows potentially for every haematology registrar nationally, and subsequently their consultants, to be informed about these projects, hugely increasing potential project recruitment.
We have very positive data from the projects we have completed so far, including an audit of IVIG use in ITP which accrued 975 patients in 39 centres nationally.
The benefits for those who registrars or consultants who contribute is that audit proformas and registration information for audit departments are prepared for them, their data is analysed for them and that they can achieve 'citable collaborator' status if they have given sufficient contribution on any papers published from those audits.
Further information can be found on our website; www.haemstar.org or by contacting haemstarnetwork@gmail.com. This can be useful for consultants in hospitals with no registrar presence so they can receive our monthly Newsletter which explains our current projects.