BSH committee vacancies
Volunteers play a crucial role in helping to deliver the Society's charitable objectives. We have a wide range of opportunities for those who wish to get involved in BSH's activities.
Video: Volunteer with BSH
BSH committee members and Trustees talk about the benefits of volunteering on one of our committees.
The benefits of volunteering include
Helping us to fulfil our mission of transforming patient care through excellence in haematology 

Getting involved with interesting projects

Meeting and networking with peers

Using your knowledge to help others

Learning new skills
Please be aware that Committee vacancies are only open to BSH members.
Vacancies are also advertised in the monthly member bulletin; members can elect to receive this on your MyBSH.
Obstetric SIG Committee Vacancy: Deadline 22nd March 2021
The BSH Obstetric SIG committee currently has a vice chair vacancy, which is open only to BSH members. Interested candidates should apply below via the link before 5pm Monday, 22nd March, 2021.
Obstetric Haematology is an area which does not have the luxury of large numbers of randomised controlled trials and good quality prospective studies, so expert opinion and shared experience is invaluable. To enhance communication and education, and to raise the profile of this emerging sub-specialty, Dr Sue Pavord and Professor Beverley Hunt established the Obstetric Haematology Group in 2001. This group provides a supportive network to help clinicians in this high stakes area.
The Vice Chair term will be 2 years, after which the Vice-Chair will become the Chair for a further 2 years.
Communications Committee Vacancy. Deadline 24 March 2021
The Communications Committee is looking to recruit three new members. We would be particularly keen to receive applications from Physician Associates, Medical Students, Consultants and Biomedical and Clinical Scientists. 
Level of Commitment
The Committee meets at least twice a year and additionally as may be necessary. Members may attend via teleconference as the need arises.
Skills and Knowledge
No special skills or knowledge are required for this role, however an interest in raising awareness of haematology as a specialty, and promoting the work of BSH are required as these are some of the priorities for the Committee. We are keen to represent the MDT and welcome applications from members in any role and at all stages of their careers. Please note you do not need to have publications for this role. Please submit your application using the online form below by 24 March 2021.
If you have any queries about this role please contact saskia@b-s-h.org.uk
Haematology Images for The Royal College of Pathologists Building
The Royal College of Pathologists are looking for some images to help decorate their new building. Images representing haematology and also transfusion medicine/science would be gratefully received.
They are looking for very high quality images that are at least 300 dpi at 2.4 meters actual height. This is because if the images are lower quality than that they will pixelate when blown up to that large scale. Ideally the images should be abstract as this is an art installation rather than a pathology one, something colourful would be great.
If you have a suitable image please contact
Daniel Ross, Chief Executive
The Royal College of Pathologists
Email: Daniel.ross@rcpath.org
BSH representative for the Association of Clinical Scientists (ACS) - Deadline for applications 8 March
There is a vacancy for a BSH representative for the Association of Clinical Scientists (ACS).
The BSH representative is nominated as an ACS Director/Trustee and is considered the 'lead' for the haematology modality within the ACS.
Role responsibilities
Board meetings & AGM
Normally three Board meetings per year, these meetings normally last approx. 1-2hrs;
two Board meetings by videoconference (normally in March/April and November/December)
one Board meeting face-to-face followed by the AGM on the same day (normally June/July/August in London, though this too has been by videoconference given the current circumstances)
If unable to participate in any of these meeting the Director/Trustee may nominate a deputy from their professional body to participate on their behalf. During Board meetings discussions may result in the need for working groups to be established for ad hoc tasks (such as a documentation reviews etc) and as a Director/Trustee the nominee may volunteer to help contribute towards these. At the AGM any Director/Trustee may put themselves forward to be considered for one of the three ACS Executive roles of Chair, Secretary or Treasurer. 
Feedback/Advice
ACS handles first-line queries and general queries; if they receive a modality-specific query from a prospective candidate or their supervisor (e.g. 'I have experience/training in xxx, can I apply for the ACS Certificate of Attainment via Route TWO in Haematology?'), this would normally be forwarded to the appropriate ACS Director/Trustee to respond. The ACS administrative team will assist by providing background or precedents where possible.
When ACS notifies candidates who have been unsuccessful (either at portfolio stage or at interview in a single or multiple competence areas), the relevant ACS Directors/Trustees are sent the assessors' comments and a copy of the letter the candidate has received. In that notification letter the names of the Directors/Trustees are included, to contact should the candidate wish to seek further feedback/advice towards a resubmission. If ACS receives the request for feedback this is forwarded to the relevant ACS Director/Trustee to respond. In these situations that Director/Trustee may contact the assessors should they feel more information is required to help with their response but we do not recommend direct contact between candidate/supervisor and assessors, the Director/Trustee would normally act as the conduit for this.
Assessors
If ACS identifies  that more assessors in the modality are required, the Director/Trustee would likely be asked to help, and the Director/Trustee's approval will be required to ratify the nomination.
Appeals/Complaints
Occasionally the ACS receives an appeal or complaint and the procedure is followed (see Appeals section of the ACS website).
Complaints are usually investigated by the relevant ACS Director/Trustee for the modality.
An Appeal panel must contain an assessor from the modality and any actions that might result from an appeal hearing (e.g. to liaise with the assessors in the modality) would probably be performed by the relevant ACS Director/Trustee.
Apply Now
Clinical Scientists who are interested in this role can apply using this form.
For more information please contact info@b-s-h.org.uk
Recruitment open for RCP registrar -deadline 5 March
The Royal College of Physicians (RCP) invites its fellows to apply for the post of registrar.
More information can be found here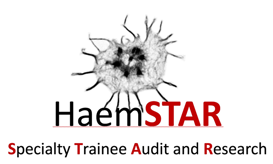 About HaemSTAR
HaemSTAR is a national network of haematology registrars aiming to promote and create research in non-malignant haematology. One of the areas we promote is audit. There is often difficulty in recruiting patients to audits for non-malignant disease, either due to reduced investment into projects relative to malignant haematology audits, or because of the rarity of conditions such as TTP. The aim of HaemSTAR is to use a central committee to either create non-malignant audits, or to promote audits started in trusts around the country to enhance uptake. The committee then disseminate information about these studies to regional leads in each training region. These regional leads then disseminate that information to their registrar colleagues. This allows potentially for every haematology registrar nationally, and subsequently their consultants, to be informed about these projects, hugely increasing potential project recruitment.
We have very positive data from the projects we have completed so far, including an audit of IVIG use in ITP which accrued 975 patients in 39 centres nationally.
The benefits for those who registrars or consultants who contribute is that audit proformas and registration information for audit departments are prepared for them, their data is analysed for them and that they can achieve 'citable collaborator' status if they have given sufficient contribution on any papers published from those audits.
Further information can be found on our website; www.haemstar.org or by contacting haemstarnetwork@gmail.com. This can be useful for consultants in hospitals with no registrar presence so they can receive our monthly Newsletter which explains our current projects.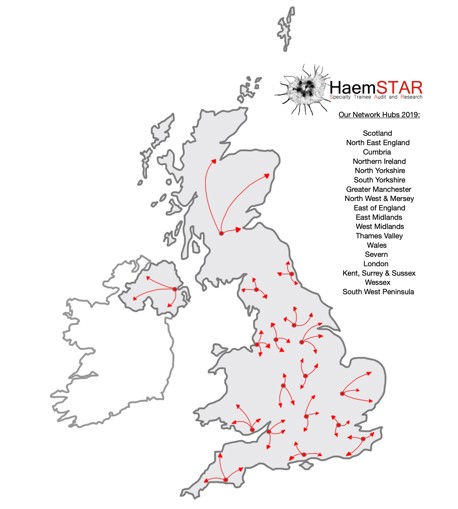 Survey of LMWH practice for the management of antenatal VTE
The department of haematology at King's College Hospital and King's College London are conducting a survey to understand the current prescribing practice of low molecular weight heparin for the acute treatment of antenatal venous thromboembolism. We would be grateful if you could spare 3 minutes to share your experience and practice.
Link to the survey: https://kings.onlinesurveys.ac.uk/once-versus-twice-daily-low-molecular-weight-heparin-for-t
Please direct any questions or comments regarding the questionnaire to Jignesh Patel (jig.patel@kcl.ac.uk)