BSH committee vacancies
Volunteers play a crucial role in helping to deliver the Society's charitable objectives. We have a wide range of opportunities for those who wish to get involved in BSH's activities.
Video: Volunteer with BSH
BSH committee members and Trustees talk about the benefits of volunteering on one of our committees.
The benefits of volunteering include
Helping us to fulfil our mission of transforming patient care through excellence in haematology 

Getting involved with interesting projects

Meeting and networking with peers

Using your knowledge to help others

Learning new skills
The Global Haematology SIG are accepting applications for the BSH Plenary Speaker Programme 2021. Please visit the Global Haematology Plenary Speaker Programme Page for more information. 
Please be aware that Committee vacancies are only open to BSH members.
Vacancies are also advertised in the monthly member bulletin; members can elect to receive this on your MyBSH.
Images for the BSH Image Library Needed
We would like to expand the BSH image library on the BSH website so that it becomes a 'go to' resource for both teaching and training for haematologists at all levels.  We are looking for good quality typical images of a variety of diagnoses. This might be a blood film +/- bone marrow aspirate/trephine but also could include characteristic features in flow plots or cytogenetic/FISH images.
To start with we would value images of representative cases of acute myeloid leukaemia which demonstrate characteristic morphological features described in their subtypes. A very short description (<100 words) of the case would be valued.  
We need good quality images so please refer to the guide on the website as to image size.
As this is an educational website, all images and their vignettes should be able to demonstrate educational value or highlight a learning point. We are keen to reduce esoteric images that have limited educational value.
Please submit your image here.  
Haematology Images for The Royal College of Pathologists Building
The Royal College of Pathologists are looking for some images to help decorate their new building. Images representing haematology and also transfusion medicine/science would be gratefully received.
They are looking for very high quality images that are at least 300 dpi at 2.4 meters actual height. This is because if the images are lower quality than that they will pixelate when blown up to that large scale. Ideally the images should be abstract as this is an art installation rather than a pathology one, something colourful would be great.
If you have a suitable image please contact
Daniel Ross, Chief Executive
The Royal College of Pathologists
Email: Daniel.ross@rcpath.org
"During Camp in the Cloud, Ariel was on such a high and was really animated and buzzing all the time. The activities were inspired, and so engaging. It just felt like an immense amount of thought was put into Camp in the Cloud, and consideration of the kids was right at the forefront. There was such variety and interest that was channelled with limited resources -and potentially limited space- yet it completely worked. Over The Wall couldn't have provided a better alternative to normal camp."
- Sarah (Camper parent)
Over the Wall offer free-of-charge and inclusive residential activity camps for children with serious health challenges, aged 8-17 years, as well as for their siblings and the whole family. 
In response to the pandemic and having to cancel our 2020 residential camps, we created Camp in the Cloud, which is inclusive and engaging virtual programme. Camp in the Cloud enables campers and families can experience the magic of an Over The Wall camp from the comfort and safety of their home. Because of this, we are able to be more inclusive than ever before and accept even more than the usual 130+ health challenges. We welcome children and young people with haemoglobin disorders or related illnesses, and we even created a Sickle Cell and Thalaessemia Family Camp in the Cloud. 
During Camp in the Cloud, campers are given exclusive access to our bespoke online platform. Here, there are opportunities for campers and families to interact in real-time with their team members through secure message boards and fun video calls. Campers are also sent our 'Seriously Fun Box' in the post, containing every single resource they need to participate. Due to the success of Camp in the Cloud, we will provide both virtual and residential activity camps as of 2022. Our medical team assesses every application to ensure we can meet the child's needs both at residential camp and virtually. 
We are looking for referrals from health care professionals so we can reach the children that would benefit most from this service. You can refer on our website: www.otw.org.uk
Please get in touch if you have any questions or would like to book a 30-minute visual presentation with your team by contacting Hannah at hannah.abbott@otw.org.uk or 07435 980565
RCPATH Performance Reviewers - Deadline 30 September 2021
RCPath are looking for new performance reviewers to undertake RCPath invited reviews where there are concerns about:
the performance of an individual pathologist or a pathology service
risks to patient care, safety, or dignity
operational aspects of the delivery of a pathology service.
WHY SHOULD YOU APPLY?
You will find helping to resolve difficult and sensitive performance and  team working issues rewarding and fulfilling
You will find the whole experience provides valuable learning and one that will contribute to your own personal development
You will be representing the Royal College of Pathologists and helping colleagues and their departments, thereby making a significant contribution to improving patient safety
Your travel and accommodation expenses are paid for by the commissioning organisation as well as a daily rate fee which you will be able to pay back to your Trust
The role is not onerous – we do not expect individuals to be called upon more than once every 2-3 years
You are not required when requested to participate, for example, if you have prior commitments
WHO SHOULD APPLY?
UK based Fellows of the Royal College of Pathologists
We are looking primarily for Fellows within cellular pathology and haematology (since most invited reviews concern those specialties) and would welcome applications from those in other specialties
Our aim is to enhance inclusivity and diversity and so we would encourage applicants from varied ethnic backgrounds and pathologists who identify as female apply to be part of our invited review teams
WHAT DOES THE ROLE ENTAIL?
You will be part of small review teams which will work with employing organisations to identify and define the nature and concerns and issues  
Invited reviews normally last for two consecutive days and can take place anywhere in the UK
You will conduct a series of interviews with all those concerned and contribute to the draft report
HOW DO I APPLY?
If you are interested in this important and rewarding role, please complete the application form and submit this to professionalism@rcpath.org
Imperial College London are looking for Principle Investigators and secondary care sites to recruit to the NIHR-HTA funded CHAPS study - Deadline 31 October 2021
Imperial College London are currently conducting the CHAPS study, an NIHR-HTA funded RCT investigating the role of compression hosiery for the prevention of post-thrombotic syndrome in patients who have been diagnosed with their first, acute DVT. Participants will be randomised to either anticoagulation alone or anticoagulation in addition to compression stockings. The primary aim is to measure the difference in incidence of PTS at a median of 18 months followed up between the two treatment arms. This definitive trial will provide robust evidence regarding the effectiveness of compression stockings in the prevention of the post-thrombotic syndrome (PTS).
The study, led by Professor Alun Davies, is being conducted across a number of secondary care sites in the UK. The study recruitment has been affected by the COVID-19 pandemic. The team are now looking to identify additional secondary care sites to recruit to this NIHR portfolio study. Owing to the impact of COVID-19, the team fully understand that potential sites may not be able to proceed with set-up until the latter part of 2021 and are happy to commence discussions in the meantime.
For more information and to find out how you can be part of this important collaboration, please contact Sarrah Peerbux (Trial Manager) at s.peerbux@imperial.ac.uk, or chapstrial@imperial.ac.uk.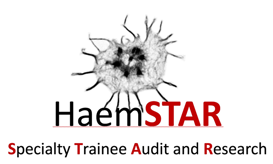 About HaemSTAR
HaemSTAR is a national network of haematology registrars aiming to promote and create research in non-malignant haematology. One of the areas we promote is audit. There is often difficulty in recruiting patients to audits for non-malignant disease, either due to reduced investment into projects relative to malignant haematology audits, or because of the rarity of conditions such as TTP. The aim of HaemSTAR is to use a central committee to either create non-malignant audits, or to promote audits started in trusts around the country to enhance uptake. The committee then disseminate information about these studies to regional leads in each training region. These regional leads then disseminate that information to their registrar colleagues. This allows potentially for every haematology registrar nationally, and subsequently their consultants, to be informed about these projects, hugely increasing potential project recruitment.
We have very positive data from the projects we have completed so far, including an audit of IVIG use in ITP which accrued 975 patients in 39 centres nationally.
The benefits for those who registrars or consultants who contribute is that audit proformas and registration information for audit departments are prepared for them, their data is analysed for them and that they can achieve 'citable collaborator' status if they have given sufficient contribution on any papers published from those audits.
Further information can be found on our website; www.haemstar.org or by contacting haemstarnetwork@gmail.com. This can be useful for consultants in hospitals with no registrar presence so they can receive our monthly Newsletter which explains our current projects.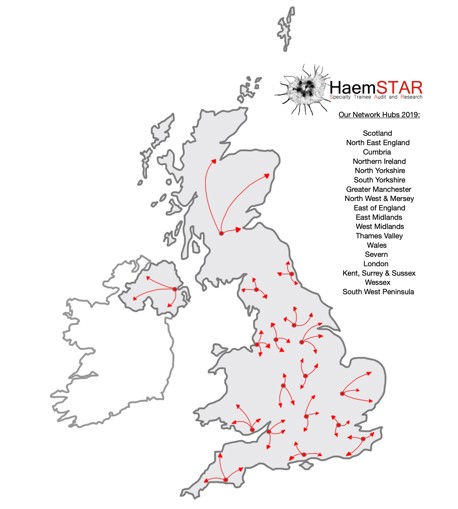 Have your say on Pernicious Anaemia Research Priorities - Deadline 26th September
Last Spring, we conducted the first of our surveys in conjunction with the James Lind Alliance that identified over 3,000 questions that clinicians, patients and others with an interest in Pernicious Anaemia want answered. We have now had those 3,000 questions analysed by a professional data analyst and we now have forty questions that need answering.
We would like you to choose your top ten questions from those forty, and then we want you to prioritise those top ten questions.
To find out more, and access the survey please click here 
https://pernicious-anaemia-society.org/pa-jla-survey/
The survey closes on the 26th September