BSH committee vacancies
Volunteers play a crucial role in helping to deliver the Society's charitable objectives. We have a wide range of opportunities for those who wish to get involved in BSH's activities.
Video: Volunteer with BSH
BSH committee members and Trustees talk about the benefits of volunteering on one of our committees.
The benefits of volunteering include
Helping us to fulfil our mission of transforming patient care through excellence in haematology 

Getting involved with interesting projects

Meeting and networking with peers

Using your knowledge to help others

Learning new skills
Please be aware that Committee vacancies are only open to BSH members.
Vacancies are also advertised in the monthly member bulletin; members can elect to receive this on your MyBSH.
Education Committee Vacancy – Nurse Representative
The BSH Education Committee develops and delivers educational resources, including seminars, training days and online content. The Committee wishes to appoint a nurse representative to the Committee.
The initial appointment is for three years, renewable for a further three years. BSH membership is required to join the Committee. 
If interested, please send an email to educationofficer@b-s-h.org.uk, outlining your interest and what experience and skills you could bring to the Committee. 
The deadline for applications is Friday 18 December 2020.
Haematology Images for The Royal College of Pathologists Building
The Royal College of Pathologists are looking for some images to help decorate their new building. Images representing haematology and also transfusion medicine/science would be gratefully received.
They are looking for very high quality images that are at least 300 dpi at 2.4 meters actual height. This is because if the images are lower quality than that they will pixelate when blown up to that large scale. Ideally the images should be abstract as this is an art installation rather than a pathology one, something colourful would be great.
If you have a suitable image please contact
Daniel Ross, Chief Executive
The Royal College of Pathologists
Email: Daniel.ross@rcpath.org
UK National External Assurance Services for Blood Coagulation. Vacancy. Deadline 31 December 2020
UK National External Assurance Services for Blood Coagulation (UK NEQAS BC) has a vacancy for a member to join their Steering Committee. UK NEQAS BC is an internationally recognised EQA programme for haemostasis testing and has a Steering Committee with a mixture of clinicians and scientists. Applicants would need to have a good working knowledge of haemostasis and be working in either a Teaching or District General Hospital.  The commitment needed would be to attend up to 2 meeting per year, previously these have been face to face but in recent times have been virtual meetings amounting to around 8 hours per year.
Interested persons can apply by sending a copy of their CV to the secretary of UK NEQA BC Steering Committee dianne.kitchen@nhs.net by December 31th 2020.
The successful candidate will be notified by 28th February 2021
Audit Evaluator - Deadline 31 January 2021
RCPath are currently seeking to recruit haematologists as evaluators for our online audit certification scheme.
At the moment, we have a relatively small number of active haematology evaluators and we urgently require more volunteers as the number of haematology audits we are receiving has increased. We would greatly appreciate if you could circulate this opportunity among any interested colleagues.
The role description is here and further information can also be found at https://www.rcpath.org/about-the-college/get-involved-volunteer-role-listing/audit-evaluator.html. Members are very welcome to contact Maria at audit@rcpath.org or 020 7451 6737 if they would like to discuss this opportunity further.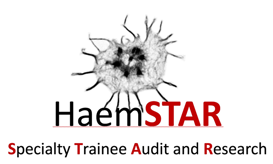 About HaemSTAR
HaemSTAR is a national network of haematology registrars aiming to promote and create research in non-malignant haematology. One of the areas we promote is audit. There is often difficulty in recruiting patients to audits for non-malignant disease, either due to reduced investment into projects relative to malignant haematology audits, or because of the rarity of conditions such as TTP. The aim of HaemSTAR is to use a central committee to either create non-malignant audits, or to promote audits started in trusts around the country to enhance uptake. The committee then disseminate information about these studies to regional leads in each training region. These regional leads then disseminate that information to their registrar colleagues. This allows potentially for every haematology registrar nationally, and subsequently their consultants, to be informed about these projects, hugely increasing potential project recruitment.
We have very positive data from the projects we have completed so far, including an audit of IVIG use in ITP which accrued 975 patients in 39 centres nationally.
The benefits for those who registrars or consultants who contribute is that audit proformas and registration information for audit departments are prepared for them, their data is analysed for them and that they can achieve 'citable collaborator' status if they have given sufficient contribution on any papers published from those audits.
Further information can be found on our website; www.haemstar.org or by contacting haemstarnetwork@gmail.com. This can be useful for consultants in hospitals with no registrar presence so they can receive our monthly Newsletter which explains our current projects.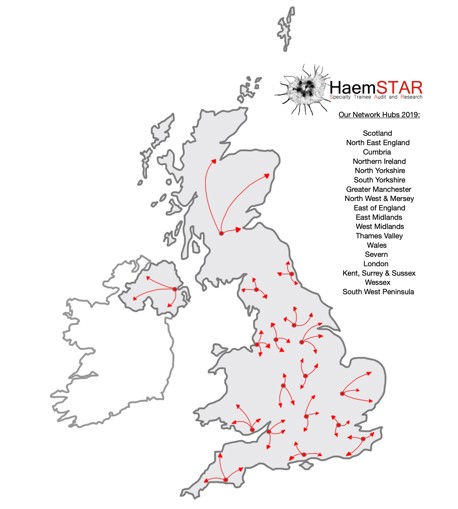 Survey of LMWH practice for the management of antenatal VTE
The department of haematology at King's College Hospital and King's College London are conducting a survey to understand the current prescribing practice of low molecular weight heparin for the acute treatment of antenatal venous thromboembolism. We would be grateful if you could spare 3 minutes to share your experience and practice.
Link to the survey: https://kings.onlinesurveys.ac.uk/once-versus-twice-daily-low-molecular-weight-heparin-for-t
Please direct any questions or comments regarding the questionnaire to Jignesh Patel (jig.patel@kcl.ac.uk)