BSH committee vacancies
Volunteers play a crucial role in helping to deliver the Society's charitable objectives. We have a wide range of opportunities for those who wish to get involved in BSH's activities.
Video: Volunteer with BSH
BSH committee members and Trustees talk about the benefits of volunteering on one of our committees.
The benefits of volunteering include
Helping us to fulfil our mission of transforming patient care through excellence in haematology 

Getting involved with interesting projects

Meeting and networking with peers

Using your knowledge to help others

Learning new skills
The Global Haematology SIG are accepting applications for the BSH Plenary Speaker Programme 2021. Please visit the Global Haematology Plenary Speaker Programme Page for more information. 
Please be aware that Committee vacancies are only open to BSH members.
Vacancies are also advertised in the monthly member bulletin; members can elect to receive this on your MyBSH.
Images for the BSH Image Library Needed
We would like to expand the BSH image library on the BSH website so that it becomes a 'go to' resource for both teaching and training for haematologists at all levels.  We are looking for good quality typical images of a variety of diagnoses. This might be a blood film +/- bone marrow aspirate/trephine but also could include characteristic features in flow plots or cytogenetic/FISH images.
To start with we would value images of representative cases of acute myeloid leukaemia which demonstrate characteristic morphological features described in their subtypes. A very short description (<100 words) of the case would be valued.  
We need good quality images so please refer to the guide on the website as to image size.
As this is an educational website, all images and their vignettes should be able to demonstrate educational value or highlight a learning point. We are keen to reduce esoteric images that have limited educational value.
Please submit your image here.  
Imperial College London are looking for Principle Investigators and secondary care sites to recruit to the NIHR-HTA funded CHAPS study - Deadline 31 October 2021
Imperial College London are currently conducting the CHAPS study, an NIHR-HTA funded RCT investigating the role of compression hosiery for the prevention of post-thrombotic syndrome in patients who have been diagnosed with their first, acute DVT. Participants will be randomised to either anticoagulation alone or anticoagulation in addition to compression stockings. The primary aim is to measure the difference in incidence of PTS at a median of 18 months followed up between the two treatment arms. This definitive trial will provide robust evidence regarding the effectiveness of compression stockings in the prevention of the post-thrombotic syndrome (PTS).
The study, led by Professor Alun Davies, is being conducted across a number of secondary care sites in the UK. The study recruitment has been affected by the COVID-19 pandemic. The team are now looking to identify additional secondary care sites to recruit to this NIHR portfolio study. Owing to the impact of COVID-19, the team fully understand that potential sites may not be able to proceed with set-up until the latter part of 2021 and are happy to commence discussions in the meantime.
For more information and to find out how you can be part of this important collaboration, please contact Sarrah Peerbux (Trial Manager) at s.peerbux@imperial.ac.uk, or chapstrial@imperial.ac.uk.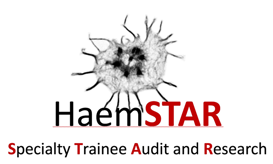 About HaemSTAR
HaemSTAR is a national network of haematology registrars aiming to promote and create research in non-malignant haematology. One of the areas we promote is audit. There is often difficulty in recruiting patients to audits for non-malignant disease, either due to reduced investment into projects relative to malignant haematology audits, or because of the rarity of conditions such as TTP. The aim of HaemSTAR is to use a central committee to either create non-malignant audits, or to promote audits started in trusts around the country to enhance uptake. The committee then disseminate information about these studies to regional leads in each training region. These regional leads then disseminate that information to their registrar colleagues. This allows potentially for every haematology registrar nationally, and subsequently their consultants, to be informed about these projects, hugely increasing potential project recruitment.
We have very positive data from the projects we have completed so far, including an audit of IVIG use in ITP which accrued 975 patients in 39 centres nationally.
The benefits for those who registrars or consultants who contribute is that audit proformas and registration information for audit departments are prepared for them, their data is analysed for them and that they can achieve 'citable collaborator' status if they have given sufficient contribution on any papers published from those audits.
Further information can be found on our website; www.haemstar.org or by contacting haemstarnetwork@gmail.com. This can be useful for consultants in hospitals with no registrar presence so they can receive our monthly Newsletter which explains our current projects.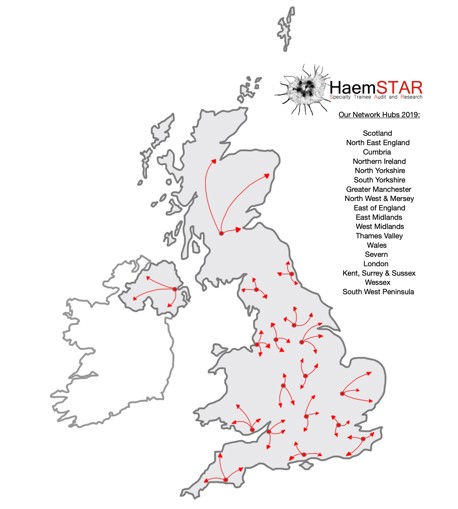 Survey of LMWH practice for the management of antenatal VTE
The department of haematology at King's College Hospital and King's College London are conducting a survey to understand the current prescribing practice of low molecular weight heparin for the acute treatment of antenatal venous thromboembolism. We would be grateful if you could spare 3 minutes to share your experience and practice.
Link to the survey: https://kings.onlinesurveys.ac.uk/once-versus-twice-daily-low-molecular-weight-heparin-for-t
Please direct any questions or comments regarding the questionnaire to Jignesh Patel (jig.patel@kcl.ac.uk)