BSH committee vacancies
Volunteers play a crucial role in helping to deliver the Society's charitable objectives. We have a wide range of opportunities for those who wish to get involved in BSH's activities.
Video: Volunteer with BSH
BSH committee members and Trustees talk about the benefits of volunteering on one of our committees.
The benefits of volunteering include
Helping us to fulfil our mission of transforming patient care through excellence in haematology 

Getting involved with interesting projects

Meeting and networking with peers

Using your knowledge to help others

Learning new skills
Please be aware that Committee vacancies are only open to BSH members.
Education Committee Vacancies
The BSH Education Committee develops and delivers educational resources, including seminars, training days and online content, and they are currently looking for five members.
The vacancies are for:
two members at consultant level

two trainees

one student representative 
The initial appointment is for three years, renewable for a further three years. BSH membership is required to join the Committee.
If interested, please send an email to educationofficer@b-s-h.org.uk, outlining your interest and what experience and skills you could bring to the Committee.
The deadline for applications is Friday 16 October 2020.
Member survey - COVID-19 and improving our services
In the coming months BSH will be conducting a programme of research amongst members of the Society. This will begin with qualitative research in August, comprising of a number of in-depth interviews, which will then feed into the design of a wider online membership survey in the Autumn.
This important research will help us understand your priorities and enable us to find out how we can better support you during this challenging time and in the future. It will help us to
Explore how the practice of haematology has changed during the COVID-19 pandemic, and what the future implications are for the profession and patients
Understand the support/benefits required by different types of members
We need you to be part of this consultation journey so that we can tailor our membership benefits to your needs.  
UK Members please do try and get involved, it is important that we get representation from all specialities and roles in the multi-disciplinary team. We are particularly keen to hear from clinical and biomedical scientists, nurses and trainees, and members in Wales. 
If you can spare some time for a call with our market research agency, (they are very flexible about times and all comments are anonymised so they would not be attributed to you) we would be very grateful. Calls will last around 45 minutes.
If you would like to help please contact saskia@b-s-h.org.uk 
Finance Audit and Risk Committee
The BSH Finance Audit and Risk Committee has one vacancy a for member looking for a slightly different learning experience and career development. The Committee oversees the annual  financial audit of the BSH as well as the BSHE; its investments, and monitors spending against budgets.  We don't require specialist knowledge, but we do look for people who will ask questions! We would particularly like to encourage a diverse range of applications: e.g. from younger members; from members who are not medics and from different ethnic backgrounds.
Please email the CEO, katy Amberley, a brief statement outlining your interest and what you could bring to the committee to: katy@b-s-h.org.uk
Nominations and Governance Committee
The BSH Nominations and Governance Committee has four vacancies for members interested in ensuring not only that potential future board members are being identified and developed, but also that there is adequate 'bench strength' in management to run key parts of the company in accordance with appropriate corporate governance standards.
We would particularly like to encourage a diverse range of applications: e.g. from younger members; from members who are not medics and from different ethnic backgrounds.
Please email the CEO, Katy Amberley,  a brief statement outlining your interest and what you could bring to the committee to: Katy@b-s-h.org.uk
General Haematology Task Force Vacancy
General Haematology Task Force Vacancy:
The General Haematology Task Force of the British Society for Haematology Guidelines (BSH Guidelines) requires one new member.
The appointment will be for three years in the first instance. Applications are requested from consultant haematologists involved in General Haematology and working in a UK hospital that would interested in joining this Task Force.
The Task Force meet three times annually at the BSH offices in London. The work of the Task Force is mostly in producing and updating guidelines and addressing other areas of development relevant to the UK. Being part of this group offers an excellent opportunity to help advance a career.
To register your interest please send your CV covering letter to Rita Gupta, BSH Guidelines Programme Manager rita@b-s-h.org.uk by 31 July 2020.
Communications Committee - Nurse representative
The BSH Communications Committee is looking to co-opt a nurse member to bring additional relevant skills and experience to the Committee so we can better represent the needs of nurses.
The purpose of the Committee is to articulate and promote the Society's vision, mission and aims as contained within its strategic plan. The Communications Committee implements the communication strategy of the BSH, ensuring that it aligns with the overarching strategic plan.
Current projects include 
BSH's 60th Anniversary
Promoting Haematology as a career
Promotion of BSH membership
The Committee will meet not less than twice a year and additionally as may be necessary. Members may attend via teleconference. 
To register your interest please email a brief statement outlining your interest and what you could bring to the committee to Saskia Ottignon, Saskia@b-s-h.org.uk by 9.00am 9th September 2020.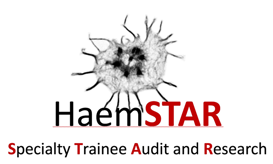 About HaemSTAR
HaemSTAR is a national network of haematology registrars aiming to promote and create research in non-malignant haematology. One of the areas we promote is audit. There is often difficulty in recruiting patients to audits for non-malignant disease, either due to reduced investment into projects relative to malignant haematology audits, or because of the rarity of conditions such as TTP. The aim of HaemSTAR is to use a central committee to either create non-malignant audits, or to promote audits started in trusts around the country to enhance uptake. The committee then disseminate information about these studies to regional leads in each training region. These regional leads then disseminate that information to their registrar colleagues. This allows potentially for every haematology registrar nationally, and subsequently their consultants, to be informed about these projects, hugely increasing potential project recruitment.
We have very positive data from the projects we have completed so far, including an audit of IVIG use in ITP which accrued 975 patients in 39 centres nationally.
The benefits for those who registrars or consultants who contribute is that audit proformas and registration information for audit departments are prepared for them, their data is analysed for them and that they can achieve 'citable collaborator' status if they have given sufficient contribution on any papers published from those audits.
Further information can be found on our website; www.haemstar.org or by contacting haemstarnetwork@gmail.com. This can be useful for consultants in hospitals with no registrar presence so they can receive our monthly Newsletter which explains our current projects.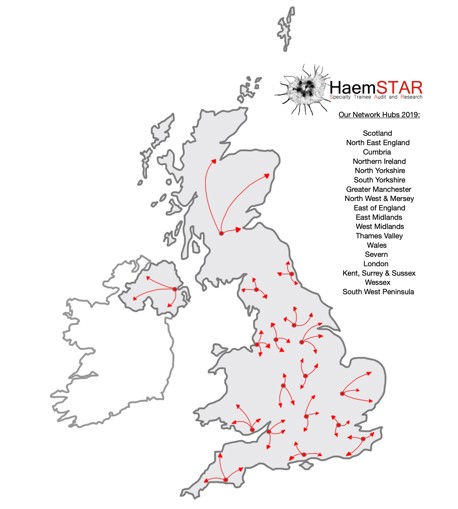 Blood Cancer UK - Health Professionals and COVID-19 survey
Blood Cancer UK's short, anonymous survey, aims to help them better understand the challenges you are facing in your work to treat people with blood cancer in the current climate.
Your answers will remain anonymous and will help inform their work to influence Government and the NHS and to ensure healthcare professionals working in haemato-oncology are well supported at this difficult time.
Survey of LMWH practice for the management of antenatal VTE
The department of haematology at King's College Hospital and King's College London are conducting a survey to understand the current prescribing practice of low molecular weight heparin for the acute treatment of antenatal venous thromboembolism. We would be grateful if you could spare 3 minutes to share your experience and practice.
Link to the survey: https://kings.onlinesurveys.ac.uk/once-versus-twice-daily-low-molecular-weight-heparin-for-t
Please direct any questions or comments regarding the questionnaire to Jignesh Patel (jig.patel@kcl.ac.uk)