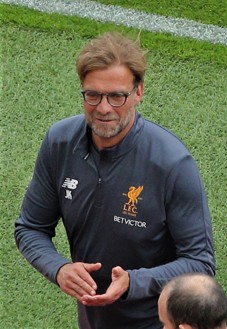 J is for June; J is for Joy and J is for Jurgen! What a month to be in Liverpool with wild scenes on the streets and a continuing feel-good factor after the European Cup win. Whatever your allegiances or none for that matter in football, Jurgen Klopp has epitomised fine leadership at Liverpool – he has grown a team that is proud to showcase "You never walk alone" in sharing responsibilities together and also connected very personally with the supporters. As BSH President, I will have to take more notes from him as "Being proud to be in a Haematology team" has been a message that you liked from the 2019 Annual Scientific Meeting and have asked us to take further forward in our celebration of the BSH 60th anniversary in 2020.
J is also for Juniors and I am delighted that there has been a recent end to the four-year dispute over the NHS contract. BSH is committed to nurturing our juniors and potential members. At this stage, I wish to highlight that one emphasis in our 2020 anniversary celebrations will be to nurture our next generation of leaders in Haematology. That also extends to new Consultant haematologists and BSH will signpost specific plans in forthcoming months. We do want your stories as younger members of the haematology family in curating 60@60 and also invite you, our energetic trainees to interview past Presidents and senior stalwarts of the BSH family. Speaking as an oldie, we are only too flattered when young ones want to talk to us!
J is for Japan, where I was immediately after the EHA Congress in June. As with meetings at EHA with their senior leadership team, the visit to Tsu in the Mie prefecture was also an opportunity to express the pride in British Haematology and our global value. Increasing the voice of Haematology is a key strategic theme for BSH, which will again be increasingly resonant in 2020. A fascinating aspect of the trip to Japan was a visit to its largest Shinto shrine at Ise, where half of the 125 hand-crafted, wooden buildings are replaced every 20 years. The reason is to re-energise heritage and sustain traditional skills with a place for the oldies to guide the middle-aged, who do most of the work, and the juniors to start learning the craft. The lesson for me at BSH is to not take the sustainability of excellent British haematology for granted but to have workable and relevant systems in place, which might include mentoring. Do let me have your views.
J will be for July when many of us start on long-awaited holidays. It will certainly be an opportunity to re-energise after busy NHS commitments. At the BSH office, the team will continue to be busy preparing the launch of many important schemes ahead of 2020. Their hard work will also ensure that the 60th anniversary year is not just a reason to have a party but a landmark year that makes us all even prouder to be haematologists. I include our nurses, our biomedical scientists, our pharmacists and our new physician associates in this expanding haematology family. In the way that Jurgen Klopp has united the hopes and desires of Liverpool Football Club's supporters, BSH too must capitalise on the fellowship and togetherness that the 60th anniversary year can enhance.
Best wishes,
Cheng-Hock