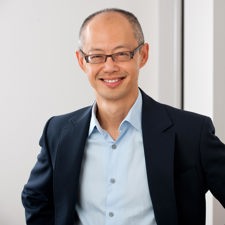 As we count down to our 2019 Annual Scientific Meeting (ASM) in Glasgow from the 1-3 April, I am delighted to tell you that our registration and sponsorship figures are the highest ever for a stand-alone BSH meeting. I wish to meet as many of you as possible and hope that you can fully participate in both the educational and social programmes. We will have many of the most outstanding international Haematologists joining us, as well as "budding Haematologists" in the form of medical students attending our bespoke Educational Day. I view this engagement as an important aspect of future proofing our specialty, especially when medical school curriculum is rather limited and patchy in Haematology exposure.
I am very happy that more trainees than ever will be attending, participating and leading sessions, such as the Crucible. One of the pleasures as BSH President is interacting with and learning from our trainees who are increasingly represented in our Committees. This bodes well for our future and their sustained wellbeing is close to my heart. I was therefore heartened to hear from the Shadow Health Secretary last week, in a meeting at the Academy of Medical Royal Colleges, that workforce and wellbeing was at the top of his agenda. Equally, Baroness Dido Harding has been tasked by the Prime Minister to develop a NHS Workforce Implementation Plan (our People Plan) and we will see an interim report soon in early April. I know that recruitment and retention of NHS staff will be a key theme.
Thanks to your votes, we have recruited five excellent Haematology leaders on to the BSH Board. In my warm welcome to them, I am also pleased that this will bring diverse representation, in terms of gender and ethnicity, which matches that of the NHS workforce. Again, this is a positive forward step, especially as BSH looks beyond its landmark 60th Anniversary year in 2020. At Glasgow next week, I will be discussing with both the American Society of Hematology (ASH) and the European Hematology Association (EHA) on how they can contribute to our Diamond Jubilee plans in amplifying the global voice of Haematology. And, we want your ideas too on how to celebrate the best of British Haematology – so, please stop by the BSH stand to share your ideas with us. You can also attend the 2020 Breakfast Table to share your feedback.
Your elected Board, the BSH staff and I look forward to seeing you in Glasgow!