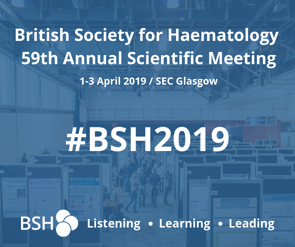 The 59th BSH Annual Scientific Meeting will soon be upon us as we look forward to welcoming you to Glasgow from the 1- 3 April. As ever we have put together an exciting, innovative programme full of renowned speakers
Join the social media campaign
By joining the social media campaign, you can help create a real online buzz around this year's meeting to expand the reach of BSH as an organisation as well as helping connect professionals within the haematology specialty with all that is going on at the meeting.
What can you do?
We want you to use your social media accounts to share all the interesting things that are happening at the ASM. These include but are not limited to:
Which sessions are you attending? Post about the sessions you are most looking forward to attending and why? What were your favourite sessions? We'd like to know.
Take home messages. What have you learnt from a session? Was there a quote from a speaker that caught your attention? Any interesting stats you picked up on? Tweet about it.
Sharing is caring. Make sure you retweet the BSH account – we will be tweeting regularly during the meeting. We also encourage you to retweet posts from speakers and other delegates.
Start a conversation. Get the conversation going by asking questions and replying to other delegates. ASM is a great opportunity to connect online with other haematology professionals and to share your ideas and thoughts. You can browse the #BSH2019 hashtag to see what others are saying and join the conversation too.
Multimedia: Photos and short videos are a great way to give a snapshot into the atmosphere of the ASM, and anything interesting that you have seen. 
Useful information
Our Twitter handle is @BritSocHaem (This is our primary social media channel that we use and where we will be predominantly promoting the ASM).
Our Facebook page is @BritishSocietyForHaematology
Our new Instagram page is @BritSocHaem
The official hashtag of the ASM is #BSH2019 and we encourage you to include this in all your posts about the meeting as well as our Twitter handle @BritSocHaem.
If you would like further information, then you can contact [email protected] who can provide you with further assistance and guidance.Contact us
We look forward to reading your posts.