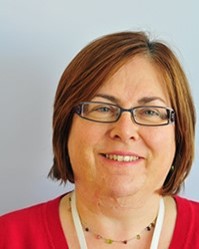 This week (5-11 November) is National Pathology Week and to mark the occasion we spoke with BSH member and Clinical Scientist Dr Sheila O'Connor. National Pathology Week is an annual celebration of pathology, which aims to highlight the important contribution pathologists make to healthcare delivery - you can read more on the RCPath website.
What led you to a career as a Clinical Scientist?
The short answer is the ESR test!
Following a childhood accident, I spent a long time in hospital and needed many blood and plasma transfusions (clearly worked well as I'm here writing this!) I found the whole process amazing. Some tests were carried out at the bedside and I have a clear memory of being very impressed as the skilful technician mouth pipetted the blood up a 20cm glass tube. The tube was placed in an ornate wooden rack and placed on the window sill – the measurement of uncertainty clearly was not considered important back then – spending an hour watching the red cells drift and settle was very entertaining. My paediatric nurse was related to the laboratory technician (official term back in the day) and when I started to recover she would allow me to come to the laboratory and count the cells down the microscope, these were the days before automation. This early fascination with blood stayed and I decided early on that I would be a blood scientist. So public engagement does work! Another factor was my Uncle was a research scientist working in NIH in America – he worked on leukaemia and cancer projects using cell lines and early culture experiments. My Uncle used to visit us regularly in Ireland as he flitted around the world attending meetings – scientific work appeared very glamorous.
Why are Scientists so important in advancing the field of haematology?
Haematology is a fascinating pathology specialism and incorporates a wide range of sub-specialisms. My particular area is lymphoma and leukaemia genetics - because blood is a liquid tumour it is very accessible and it means that haematology has led the way in the field of cancer genomics. One of the first proteins to have its molecular structure determined was haemoglobin, this work was carried out by Dr Max Perutz in Cambridge University in 1959. I was very lucky to cross paths with Dr Perutz during the 1990's when I worked at Addenbrookes Hospital. The hospital was on the same site as the laboratory of Molecular Biology (LMB) and there was a lot of cross sharing of facilities and ideas. It was very exciting to be in at the beginning of molecular haematology. Now 20 years later, and having just attended the myeloid leukaemia multi-disciplinary team (MDT) meeting we are using high-through put sequencing (HTS) and quantitative PCR and SNP array in conjunction with more traditional morphology and multi-parametric flow cytometry to classify disease and risk stratify as well as direct treatment. My scientific job remains as exciting as the day I started work.
What advice would you give to someone considering a career as a Scientist practicing in haematology?
Go for it! I have never been bored in a 35+ year career in haematology. It is constantly changing and moving forward.
What is the most rewarding part of your job?
Ultimately I love teaching trainee scientists and medics so that they have a strong foundation in basic haematology before progressing on to the more specialist laboratory skills. Seeing the trainees understand some essential concepts.
It is also rewarding to make a correct diagnosis rapidly to enable treatment to start in clinically urgent diseases such as acute promyelocytic leukaemia (APL) - from receiving a sample in the laboratory we can provide a genetically confirmed diagnosis in approximately 2 hours (in most cases.)
What is the most challenging part of your job?
When you cannot carry out the work needed as the sample quality is too poor - that is so frustrating.
What does being a BSH member mean to you?
I have been a BSH member for 20+ years - it gives me a sense of pride to be a member. I have not managed to attend all the annual meetings but I remember my first meeting which was in Cardiff in the late 1980's or early 1990's. I have seen the meeting grow from a few hundred attendees to a few thousand. Having working in a few major centres around the UK attending the meeting also has a social aspect as I can meet up with colleagues. I enjoy the mix of scientific and clinical talks and I always make a point of attending educational sessions in general haematology and haemostasis to keep fairly up to date in non-malignant haematology.
What do you plan to do next in your career?
I'm at the stage of my career where I need to think about skills transference! I am doing a lot of teaching within my department at present for haematology and cancer genomics trainees.
---
Royal College of Pathologists - National Pathology Week
Watch: We spoke with Sheila at the 2018 BSH Annual Scientific Meeting in Liverpool
*The contents of this article do not reflect an official BSH position. We would value your thoughts on this article and hope it provokes discussion within the haematology community.