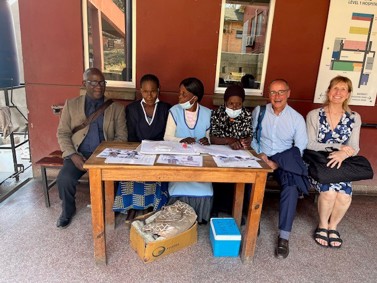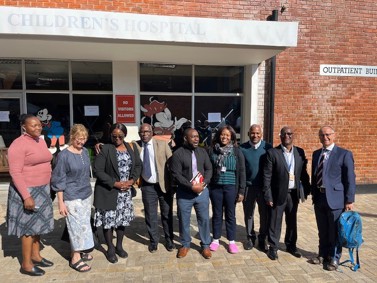 A new BSH collaboration has been formed with medical colleagues in Zambia to improve screening and care for newborns with sickle-cell disease.
The collaboration follows a visit in August 2023 to the country by BSH President Dr Josh Wright, Dr Yvonne Daniel from Guy's and St Thomas' Hospital, and Dr Baba Inusa from Evelina London Women and Children's Hospital.
As members of BSH's Global Haematology Special Interest Group, the team agreed a new programme of work with their Zambian counterparts to combat sickle cell disease, which is particularly common in the African population. This builds on the earlier establishment of a new neonatal sickle cell screening unit at Zambia's Arthur Davison Children's Hospital (ADCH).
BSH Special Interest Groups bring together professionals interested in specific areas of haematology, organising meetings and seminars, networking and swapping information. The groups are run by a committee of BSH members on an entirely voluntary basis.
In Zambia, BSH will help to map out a pathway for monitoring and treating the disease among newborn babies and will also advise on clinical haematology training in areas such as anaemia, haemoglobinopathy care and diagnosis, and obstetric haematology.
The team hopes to establish a programme of rolling annual BSH visits, to spend a week each time teaching and training in the capital Lusaka, as well as in two other major cities, Kitwe and Ndola, where the ADCH is located.
Other activities could include regular virtual meetings with screening labs to discuss technical issues and complex reporting, and establishing a Zambian institution as a formal partner site of US-based charity Health Volunteers Overseas, to encourage longer placements of staff.
The initiative also has the support of NHS England. Leaders of NHSE's own newborn sickle cell screening programme have discussed the Zambian collaboration with BSH and as well as helping on the establishment of the pathway, are considering contributing to online discussions, teaching, and possibly visiting next year.
BSH President Josh Wright said: "It was a fascinating and inspiring trip. I hope the BSH will be able to build on the links we have established, developing ongoing training and education, initially concentrating on sickle care and newborn screening, but in time extending into other subspecialist areas. I believe such a link will provide development opportunities for staff in both countries."