CAR-T cells and bispecific antibodies have advanced our therapeutic armamentarium for haematological malignancies. The programme of the ESH 2nd How I Manage "CAR-T Therapies and Bispecific Antibodies for my patients"" conference aims to provide an overview of the benefits and risks of currently available therapies for acute lymphoblastic leukaemia, lymphoma and multiple myeloma. Special focus will be placed on the advantages and disadvantages of bispecific antibodies vs. cellular therapies (including T cells, NK cells and transplant strategies). Future perspectives regarding applications in other haematological malignancies and in solid tumours will also be discussed. Chairs: Ulrich Jäger, Marie José Kersten, Loretta Nastoupil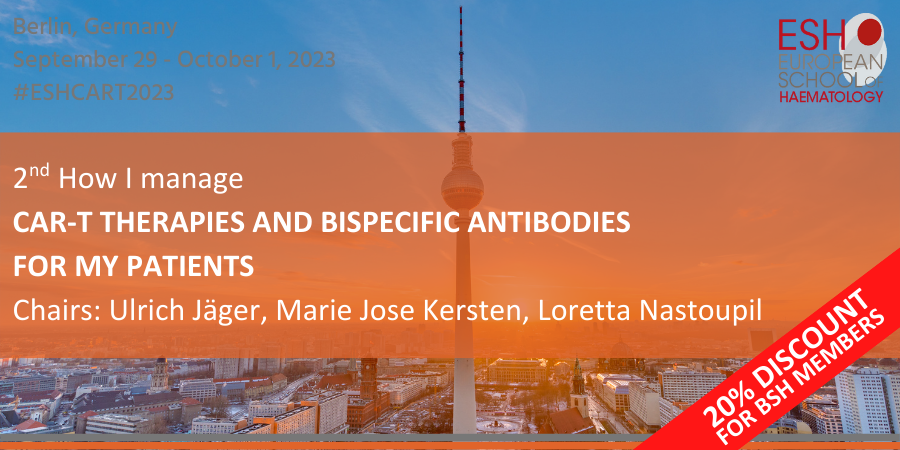 Date: Friday 29 September - Sunday 1 October 2023
Venue: Vienna House Andels' Berlin, Germany
CAR-T cells and bispecific antibodies have advanced our therapeutic armamentarium for haematological malignancies. The programme of this ESH conference aims to provide an overview of the benefits and risks of currently available therapies for acute lymphoblastic leukaemia, lymphoma and multiple myeloma. Special focus will be placed on the advantages and disadvantages of bispecific antibodies vs. cellular therapies (including T cells, NK cells and transplant strategies). Future perspectives regarding applications in other haematological malignancies and in solid tumours will also be discussed.
The format of the meeting is based on the analysis and discussion of clinical case studies. It will adopt a problem-solving approach, addressing practical considerations and guidelines. Emphasis will be placed on open discussion, including a maximum level of interaction between faculty and registered participants. In addition to the scientific and medical issues addressed during the conference, the questions of affordability of and access to these novel expensive treatments will be tackled by medical experts, representatives of patient organisations, economists, authorities and industry.
Continuing Medical Education (CME) credit points will be awarded to physicians for the time they will spend at the meeting improving their knowledge and skills. ESH is a provider of the European Haematology CME system.
Posters and Brief Oral Communications:
Registered participants are invited to submit their clinical cases and abstracts abstracts. Selected clinical cases and abstracts will be presented as brief oral communications or posters.
Call for abstracts and clinical cases: deadline 2 July 2023
The meeting will be of interest to:
Senior biologists and clinicians, including experts in the field (MD, PhD, MD-PhD)
Junior scientists and clinicians (MD, PhD)
PhD candidates and clinical residents still in-training
Learning Objectives:
Upon completion of this CME activity, participants should be able to:
Understanding of the current landscape of bispecific antibodies
Understanding of the current landscape of CAR-T cells
Novel approaches and technologies in the field
Integration of novel therapies into current clinical practice
Future perspectives in bispecific antibody and cellular therapies in haematological malignancies and solid tumours Scientific
Topics:
Diffuse large B-cell Lymphoma: How to optimize the benefit of CAR T-cell therapy?
Diffuse large B-cell lymphoma: How to minimize potential risks of CAR T-cell therapy?
Multiple Myeloma: targeting BCMA with bispecifics and CARs
Bispecific antibodies in the treatment of B-NHL
Acute lymphoblastic leukaemia (ALL): the role of CARs and Bispecifics
Lessons from paediatric haematology
Perspectives: CARs and bispecifics for haematological malignancies
The programme will include:
Keynote Lecture
Plenary Sessions
Meet the Expert Sessions
Roundtables
Debates
Mentored Poster Walks
Brief Oral Communications
Voting technology
Conference website and registration