ESH Translational Research Conferences propose programmes of leading-edge basic and clinical science, as well as opportunities for informal scientific interaction with a panel of global experts in the field. It is open to an international audience of biologists and clinicians, including those still in training. Chairs: Jennifer Brown, Paolo Ghia, Michael Hallek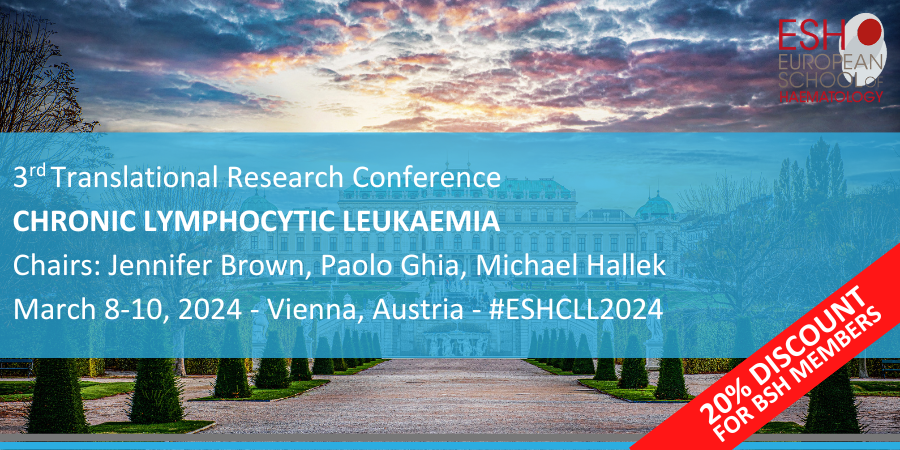 Date: Friday 8 - Sunday 10 March 2024
Venue: Austria Trend Hotel Savoyen, Vienna, Austria
The ESH 3rd Translational Research Conference: Chronic Lymphocytic Leukaemia proposes a programme of leading-edge basic and clinical science, as well as opportunities for informal scientific interaction with a panel of global experts in the field. It is open to an international audience of biologists and clinicians, including those still in training.
This translational research conference will bring together biologists and clinicians with an interest in Chronic Lymphocytic Leukaemia (CLL) in order to explore the most recent advances in the understanding of the pathogenesis and clinical behaviour of the disease. The presentation of new data is encouraged, as well as spirited debates on how to use this knowledge to the future of CLL therapy.
Why the meeting will be valuable for participants?
It fosters scientific exchange between laboratory scientists and clinicians working on translational CLL research worldwide
It provides opportunities for leading-edge education and international networking to basic and clinical scientists, including those still in training 
A first-class selection of international speakers will guarantee the highest quality of science and a summary of the most recent developments in the biology and therapy of CLL.
This conference is accredited by the European Board for Accreditation in Hematology (EBAH) CME system. Participants will be eligible to claim CME credit points.
Posters and Brief Oral Communications
Registered participants are invited to submit their abstracts. Selected abstracts are eligible for an oral or a poster presentation. Call for abstracts: deadline 14 December 2023.
The meeting will be of interest to:
Senior biologists and clinicians, including experts in the field (MD, PhD, MD-PhD)
Junior scientists and clinicians (MD, PhD)
PhD candidates and clinical residents still in training
Learning Objectives
Upon completion of this CME activity, participants should:
Understand recent advances in elucidating the pathogenesis of CLL
Describe recent data on therapeutic regimens for CLL 
Understand emerging data on mechanisms of resistance to targeted agents in CLL
Understand Scientific Topics: CLL disease progression Richters syndrome Biomarkers: where do we stand?
Targeting the microenvironment in CLL
What is the best time-limited therapy BTK inhibitors
Small molecule resistance
Next generation therapies
The future: other targets
The program will include:
Plenary Sessions
Panel Discussions
Simultaneous Meet the Expert Sessions
Poster Walks
For further information and to register for the event please visit the conference website.