The ESH 7th Translational Research Conference: Lymphoid Malignancies will address the rapidly evolving field of lymphoid malignancies, including T- and B-cell lymphomas, and chronic lymphocytic leukaemia (CLL), from molecular pathogenesis to state-of-the-art treatment and future perspectives. Chairs: Michael Hallek, Georg Lenz, Laurie Sehn, Louis Staudt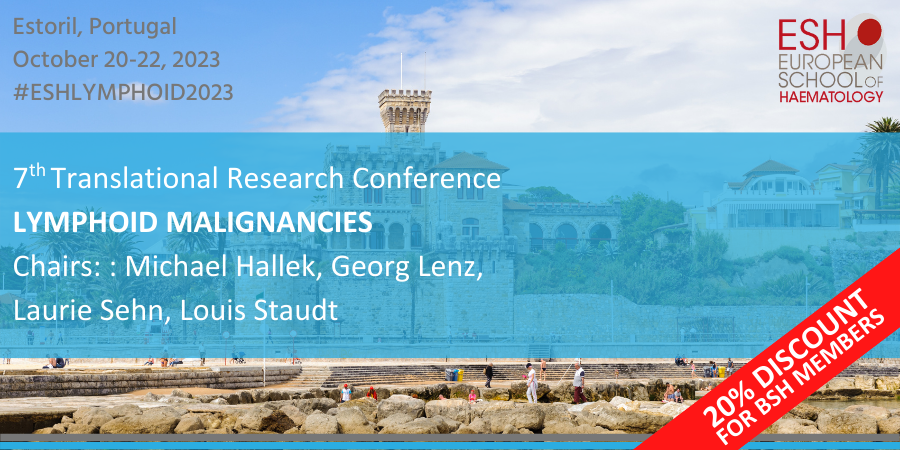 Date: Friday 20 - Sunday 22 October 2023
Venue: Estoril Congress Centre, Portugal
ESH Translational Research Conferences focus on leading-edge basic, clinical and therapeutic research and future perspectives. The presentation of unpublished data is encouraged. This leading-edge translational research conference will address the rapidly evolving field of lymphoid malignancies, including T- and B-cell lymphomas, and chronic lymphocytic leukaemia (CLL), from molecular pathogenesis to state-of-the-art treatment and future perspectives.
The goals of this conference are to:
foster scientific exchange between laboratory scientists and clinicians working on lymphoid malignancies worldwide
foster scientific cross-fertilisation between researchers and clinicians working on different diseases with partially overlapping pathogenic mechanisms such as the B cell receptor signaling, alterations of the DNA damage response, or the increasingly important dialogue of lymphoid tumour cells with their microenvironment
provide opportunities for leading-edge education and international networking to basic and clinical scientists, including those still in-training.
A first-class selection of international speakers will guarantee the highest quality of science and a summary of the most recent developments in the biology and therapy of lymphoid malignancies.
Continuing Medical Education (CME) credit points will be awarded to physicians for the time they will spend at the meeting improving their knowledge and skills. ESH is a provider of the European Haematology CME system.
Posters and Brief Oral Communications:
Registered participants are invited to submit their biology and clinical abstracts. Selected abstracts will be presented as brief oral communications or posters.
Call for abstracts: deadline 5 July 2023
This meeting will be valuable to you if you are looking for:
A cutting-edge scientific program – from basic science to clinical and therapeutic applications and perspectives
Multiple opportunities for scientific interaction with an international faculty of distinguished experts
An emphasis on critical discussion The meeting will provide clinicians and scientists with state-of-the-art recommendations regarding patient care and insight in controversies in the field.
The meeting will be of interest to:
Senior biologists and clinicians, including experts in the field (MD, PhD, MD-PhD)
Junior scientists and clinicians (MD, PhD) 
PhD candidates and clinical residents still in-training
Learning Objectives:
Improved understanding of :
current developments in the field of molecular pathogenesis of indolent and aggressive B-cell lymphoma including CLL
current developments in the field of the molecular pathogenesis of T-cell lymphoma
prognostic and predictive markers and their impact in specific clinical situations
current treatments and future therapeutic perspectives. Scientific
Topics:
Biology of diffuse large B cell lymphoma subtypes II
Novel molecular lymphoma subtypes
Epigenetic and genetic regulation of clonal lymphoma evolution
Lymphoma cell interactions in the tumor microenvironment
Monoclonal antibodies & non-cellular immune therapies
Cellular immune therapies
Small molecular pathway inhibitors
Combination therapies
Use of CT DNA for diagnostic and therapeutic monitoring
The programme will include:
Plenary Sessions
Simultaneous Meet the Experts Sessions
Round Table Discussions
Brief Oral Communications
Mentored Poster Walk
Ample time for in-depth discussion
Conference website and registration