The BioDriveAFS Investigators' Day is aimed at healthcare professionals and scientists involved in the care of acute leukaemia or invasive fungal infections. The event will inform about the trial and progress, plus related topics such as biomarker turnaround time, through short presentations and Q&A sessions with experts in the field.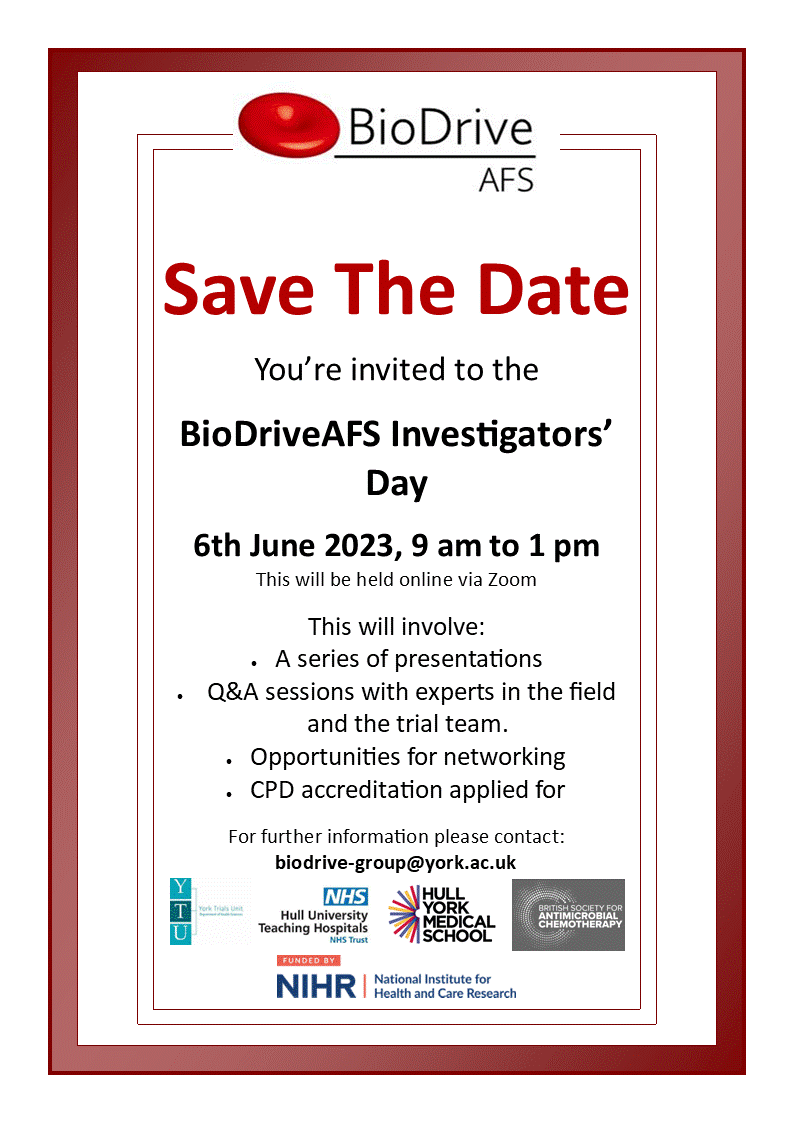 Date: Tuesday 6 June 2023
Time: 09:00 - 13:00
Venue: Virtual event 
Please join us for the BioDriveAFS: Biomarker Driven Antifungal Stewardship in Acute Leukaemia Investigators' Day on Tuesday 6 June 2023, 9 am to 1 pm. The event will be online and CPD accreditation has been applied for through the Royal College of Physicians.
The Investigators' Day will be led by the BioDriveAFS Co-Chief Investigators Dr Gavin Barlow (Senior Clinical Lecturer at Hull York Medical School and Honorary Consultant in Infection), Dr David Allsup (Senior Lecturer in Haematology and Honorary Consultant), and York Trials Unit, University of York. This event will be hosted by the British Society for Antimicrobial Chemotherapy (BSAC).
The BioDriveAFS Investigators' Day will feature an overview of the trial and its progress, plus presentations and Q&A sessions with experts in the field covering topics including the diagnosis of invasive fungal infections, how to improve biomarker turnaround time, antifungal agents and resistance, and the importance of supportive care in acute myeloid leukaemia (AML).
There will also be opportunities for networking. A programme of the day will be circulated to you nearer the time. To register your interest, please complete the registration form. 
Should you have any questions or queries, please do not hesitate to contact the study team: [email protected].